By TOM GANNON
As the water levels declined and flooding started to subside in the early hours of Friday morning, clean up began in some of Traralgon's worst affected areas.
Council trucks and heavy machinery were in abundance along Davidson Street, clearing masses of debris that the raging flood waters had left behind.
A thick layer of mud covered most of the road, footpath and had even managed to snake up the walls of nearby cafes and homes.
Among those doing their best to get things back normal was owner of Food Co on Franklin Rod Murphy who had been hard at work pressure spraying mud from the ground around
his café.
Mr Murphy said his business managed to survive the floods but he had heard that others weren't as lucky.
"We're very lucky we didn't actually get water inside the café but we are one of the lucky ones," he said.
"Unfortunately there were a lot that didn't survive it but it has subsided which is good, but it's now just about the clean-up afterwards."
At the flood's peak, Mr Murphy told The Express the only thing he could do was try not to think about the danger to his business and was left to helplessly watch the water rise through CCTV cameras.
"I watched it on the camera coming in but there was nothing more I could do," he said.
"My thoughts yesterday were that I didn't want to have to think at all, I sort of tuned out and did nothing really, I couldn't think about it."
However, Mr Murphy said he was relieved to see there had been no interior damage to the café but expected the mud to be difficult to clean.
"I was relieved this morning when I turned up to see the shop hadn't gotten any water inside but it's going to be a couple of days cleaning up the mess that's all," he said.
"It was probably about six inches deep at its worse, so it wasn't too bad but it's the mud that has a lasting effect."
Although the café planned to reopen on Friday, Mr Murphy said he doubted whether people would be able to travel there.
"We're trading as usual today but a lot of people won't come out because they aren't sure what roads are open or not," he said.
Mr Murphy urged the community to support traders after a disruptive few weeks.
"Hopefully the community gets around traders as much as they can because it's a bit of a hard week with the lockdowns and now this," he said.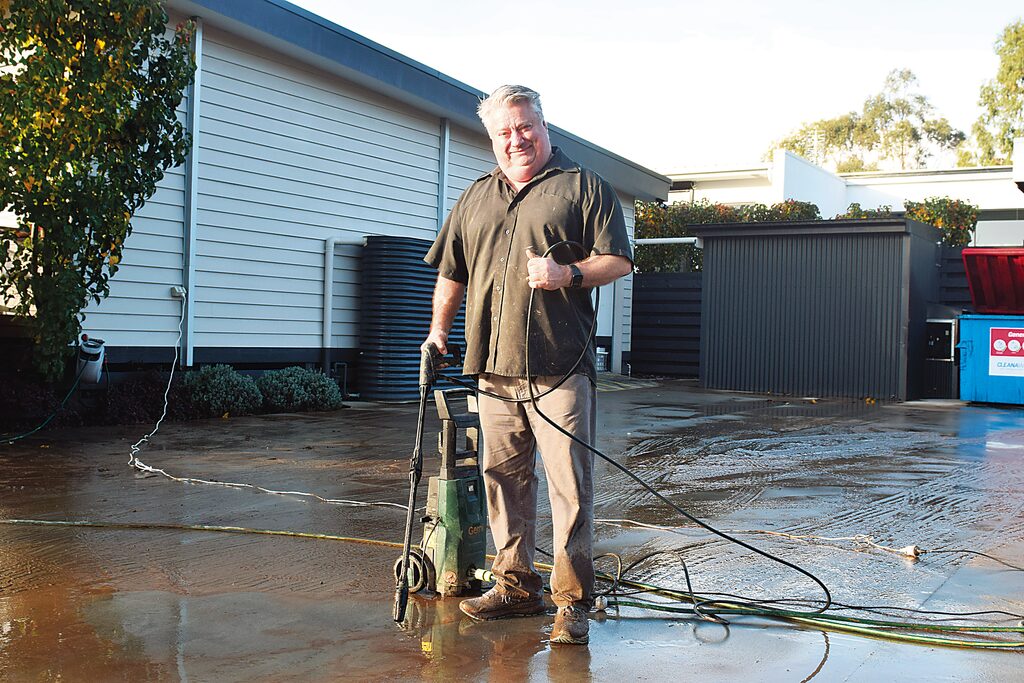 Cleaning up: Food Co on Franklin owner Rod Murphy was up early on Friday morning to pressure spray the mud around his business.