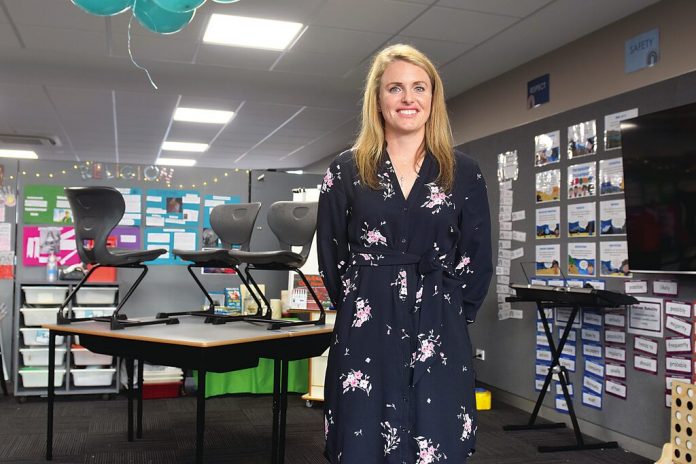 By ZAC STANDISH
NEWBOROUGH resident Kimberley Gee was one of a select number of Australians honoured by the Governor-General on the Queen's Birthday, as she claimed an Emergency Services Medal (ESM).
Ms Gee was recognised for her impact as a role model to up and coming lifesavers and has claimed 98 awards over her storied career at the Venus Bay Lifesaving Club including being twice named the top Lifesaving Trainer in Australia – an accomplishment that had never been achieved before.
Speaking with The Express, Ms Gee said it is an honour to be recognised with this award.
"It was unexpected as I did not know I had been nominated and it is a surreal feeling because for me training and education is something I just love doing at the lifesaving club so it is just incredible that you are being recognised for something that you love," Ms Gee said.
"(My first reaction) was I was really surprised (that I had won), you don't do any of this for that purpose of awards and accolades, especially in volunteering it is just simply helping and giving back to the community and Venus Bay is just such a beautiful community."
Reflecting back on her teenage years, she said it was her love of the water that initially drew her to lifesaving.
"I always wanted to do it (be a lifesaver), I was a competitive swimmer all through my childhood and got to quite a high level, but I always wanted to work on the beach and patrol but never could because of my swimming," she said.
"So I actually joined quite late, not until I was almost 18, and I always found it to be such an exciting profession – you see all the lifeguards on the beach patrolling and it is just that sense of community and I just love the beach so much."
Nominated for this award by the club without her knowledge, she said it speaks to the power of the community at Venus Bay who have embraced her more than 20 years of service.
"It is so wonderful to be part of the community (at Venus Bay), it reminds me of when you haven't seen your extended family for a long period of time and then you all gather, so when we all get together every summer it is really special," she said.
"It is fantastic (to see them put me up for this award), the club has been very successfully recently in being recognised as club of the year nationally a couple of years ago and we have had a lot of people working really hard over a number of years and it has just come to a lot of success and I just love being part of it."
When asked about what made her the ideal candidate for this award, Ms Gee highlighted the growth of the club's training program and ability to influence the people around her.
"The nomination the club put in talked a lot about the process in how we have built up training and education and how we have really been able to skill our members so that some of them have gone on to achieve meritorious awards for bravery in terms of the rescues because we do a lot," she said.
"Also I think a lot of work I have done around inclusion with the females within the club, so it was traditionally male orientated and a lot of girls are coming in and I identified areas of weakness in the club.
"I started up things like female board paddling sessions where all the girls could get together and be confident in the water and then we have also done a lot of work in modifying our training program to assist those with all abilities which has been fantastic."
She said the Venus Bay Lifesaving Club has had a significant impact on her life.
"There is a big sense of pride (looking back on my time at the club), it has been the best years of my life, some of the friendships I have made are friends for life and the skills and
knowledge you learn then transfer into every aspect in your life – it has been just so valuable."