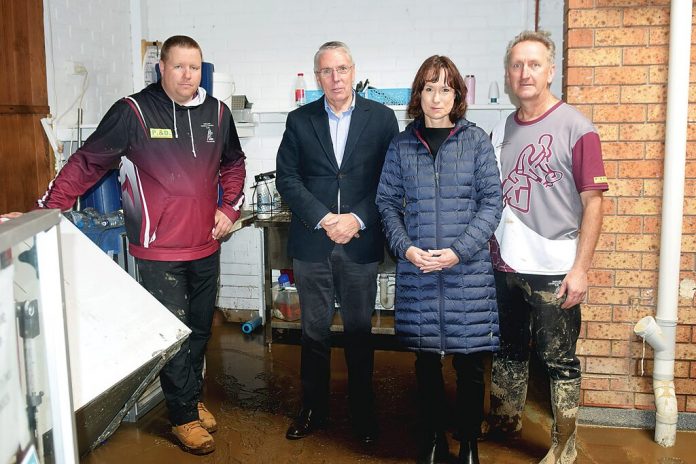 By LIAM DURKIN
THE who's who of The Nationals met with user groups of the Traralgon Recreation Reserve on Monday.
State leader Peter Walsh was joined by Federal Member for Gippsland Darren Chester, Member for Eastern Victoria Melina Bath and Member for Gippsland South Danny O'Brien, who surveyed the extensive damage beset upon the recreation reserve following last week's flood.
The MP's spoke to Traralgon Football-Netball Club committee members, as well as those involved with the Gippsland Ranges Roller Derby.
With the flood having a huge impact not only physically, but on the morale of volunteers involved at the recreation reserve, the visit was a highly emotional time that saw a few tears shed.
Mr Walsh said his heart went out to all who had been affected.
"It's absolutely tragic, the mud, the mess,
everything that is going to be thrown out I really feel for people that have been personally flooded," he said.
"These guys (Traralgon FNC) were looking forward to taking on Morwell in a couple of weeks. It's about hopefully getting up and running again so they can have their home ground."
As the recovery effort continues, Mr Walsh implored on people to make sure they got the help they needed.
"The first thing is to get support to people who desperately need it," he said.
"What I keep saying to people is don't be too proud to actually ask for support. The different grants and different programs are there to make sure people get that support. Don't be too proud."
Ms Bath, who is based in Traralgon, said the flood and storm damage had impacted the
community severely.
"One of the things you see is the raw emotion on people's faces, this has hit people very very hard," she said.
"At the very nub of who they are, their homes, their places of work and community venues, it is raw and it is certainly up to the rest of us to provide that emotional support really to get people over the hump.
"I understand living and working in the town it's so very important that the news cycle just doesn't move on – it's important that the focus on where the need is remains until the need goes. All governments and all MPs need to come together to respond to the need."
With his constituents in some of the hardest hit areas in South Gippsland, Mr O'Brien said the damage from the flood and storm went far beyond Traralgon.
"Once the flood threat eased in Sale on Saturday morning, I spent the weekend touring my electorate and felt it was important for Mr Walsh to see the damage and appreciate that it is not restricted to flooding in Traralgon," he said.
"We still have people without power and telecommunications five days after the event which must be reviewed by authorities in the aftermath.
"I have also asked the state government to place a moratorium on the ban on roadside collection of firewood. There is so much timber down and it would be foolish not to allow people to collect wood where it is safe to do so and they can get vehicles well off the road. They'll be helping with the clean-up anyway."
State and federal assistance has been activated for those in emergency need and can be found at www.emergency.vic.gov.au/relief/#financial_assistance.