Michelle Slater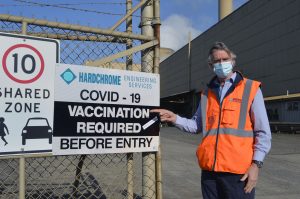 A Yallourn engineering workshop is taking a hard stance against COVID by requiring that all employees and site visitors should be vaccinated against the coronavirus.
Hardchrome Engineering is mandating that all staff on site must have at least one COVID jab by November 1.
General manager Andrew Dugan believes he was the first business in the Latrobe Valley to bring in compulsory staff jabs, following in the footsteps from SPC and Qantas.
"If we can push other businesses down this track, then the better. The majority of the people on our sites want this policy as they want their jobs to be safe," Mr Dugan said.
"COVID vaccination targets need to be at 100 per cent and the only way to do this is with mandatory vaccinations. I believe in some ways, I'm doing the government's job."
Mr Dugan said lawyers had told him he was within his rights as a private property owner to require onsite mandatory vaccinations.
Hardchrome Engineering employs 100 people on two sites in Yallourn and Clayton, repairing heavy components for mining and energy industries.
Mr Dugan said the company relied on quick repair turnaround times for its interstate customers, and any COVID outbreaks in his workshops would mean "our business would collapse overnight".
The business owner said he first discussed staff jabs about four months ago, allowing employees to get vaxxed on company time.
"They get a slab when they get a jab," he said.
Mr Dugan said only handful of his staff were "vaccine refusers" but these workers would be given several choices if they chose to remain unvaccinated after the November deadline.
"I can't sack them, but they won't be allowed onsite until they've made their minds up," he said.
"Our subcontractors have been good, they want to get vaccinated. I'm getting some reservations from transport companies, but we've been firm with them.
"I've told them if their drivers are not vaccinated then don't bother come on site, we will find another company that complies with our policy."
Mr Dugan said his stance was also going above and beyond his legal requirements to provide a COVID safe work environment.
"We have people here with serious chronic illnesses and COVID would kill them. I can take a hard line or not," he said.
"The only way we will beat this is with better than best practice. We've had a lot of supportive emails and phone calls over this and our customer base has been positive."