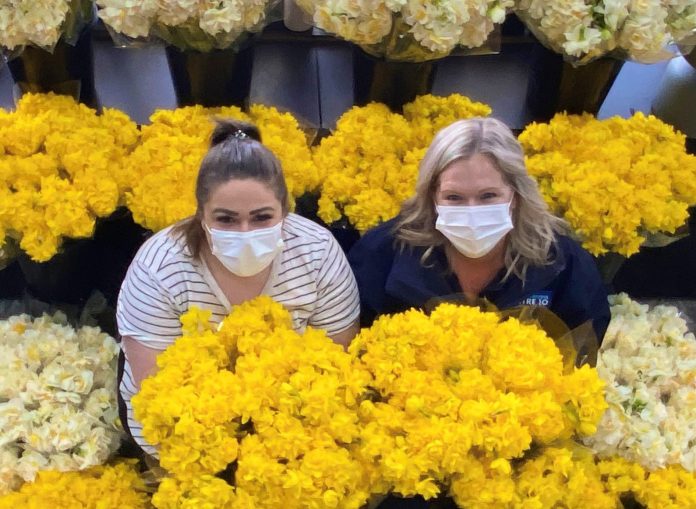 By TOM GANNON
THE Moe and Newborough community was treated to a colourful surprise last week, just in time for spring.
A total of 350 bunches of daffodils were hand delivered to local schools, businesses, nursing homes, essential workers and the community as part of Project Flower Bomb.
The feelgood initiative was led by Style Lush florist owner Rachael Savige and TM&H Mitre 10 Moe director Laura Town as a way to bring some happiness back to the community during a tough time.
"We've been talking a lot during COVID about how heart breaking it is that a lot of the businesses around town have had to close their doors or limit their services," Ms Town told The Express.
"We were kind of trying to figure out what we could do to try and brighten up those people and the nursing homes a little bit."
Ms Town said it was a particular highlight delivering daffodils to the Latrobe Valley Village aged care facility in Moe.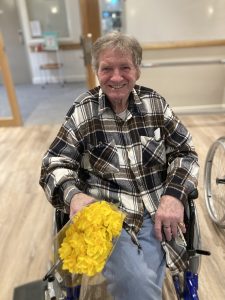 "It really brightened their day and we got some messages privately from daughters, sons and other loved ones who had residents in there and they hadn't been able to see them for quite some time," she said.
"It gave them a lot of joy to know their family members had a nice day receiving them.
"I think it's made a massive difference and we weren't expecting such an overwhelming response, it's a wonderful initiative and I'm glad to be a part of it."
Latrobe Valley Village Activities co-ordinator Carol Johnston said the flower delivery was "just what the doctor ordered" after a tough week and thanked both business for the thoughtful initiative.
"This is two local businesses that have come together during a crisis to lift the spirits of others, nothing can beat that for team spirit," she said.
"For our residents who are missing their families and their freedoms, this gift of kindness bought smiles to their faces and offered them hope.
"To offer gifts at a time when businesses are so personally affected by the lockdown speaks volumes for the integrity of these business owners."
As part of the initiative, Ms Town and Ms Savige have challenged others in the community to spread some kindness.
"We know that our community supports us and they have through this whole lockdown, Rachael and I have been lucky enough to keep our doors slightly open through click and collect so we are challenging anyone who can, to spread a bit of kindness during this time," Ms Town said.