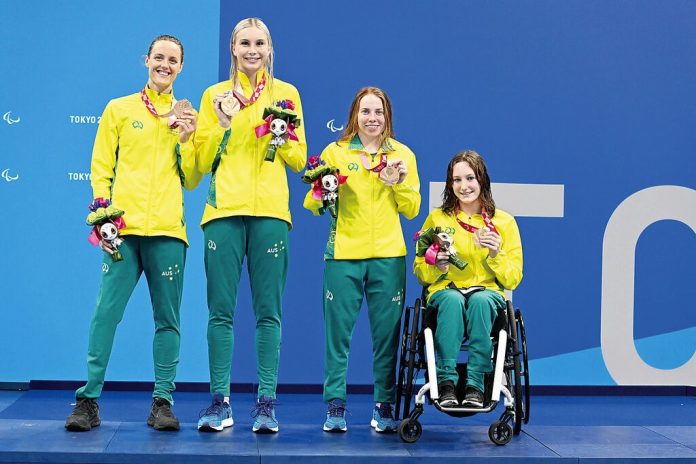 PARALYMPICS
TRARALGON swimmer Emily Beecroft ended her Paralympic Games adding a second medal to her collection.
Having secured a silver medal in the four by 100 metres freestyle relay four days earlier, Beecroft again found herself on the podium with the Australian relay team after the four by 100 metre medley relay team touched in for the bronze medal.
The 21-year-old took the all-important third leg in the relay, as her and teammates Ellie Cole, Isabella Vincent and Keira Stephens edged out Great Britain with a time of 4:55.70 to get on the podium.
Starting the race with backstroke, Cole dived off the blocks first and put Australia in a strong position for Stephens to take over in the
breaststroke leg.
Pushing hard against competitors on either side of her lane, Stephens allowed Beecroft to remain in contention for the butterfly section.
In the final leg, the youngest member of the Australian Paralympic team, Vincent, anchored her spot in freestyle and fought until the very end to secure the bronze.
Beecroft also played a part in cementing Australia's most successful Paralympian, as the win meant Cole claimed her 17th Paralympic medal – taking her past the mark set by Priya Cooper.
Beecroft said she was happy to contribute to the team effort.
"I was definitely really nervous for the first butterfly event of the whole comp," she told Channel 7 post-race.
"Ellie (Cole) and Kiera (Stephens) put us in a really good position, I knew I wanted to keep that, it was just really exciting to swim tonight because I didn't get to do the individuals so I knew I wanted to post a good time – I think I did that so I'm pretty pleased."
In a nice touch, as has become customary due to COVID restrictions, the athletes presented each other with their medals at the ceremony. Beecroft put the bronze around Vincent's neck, before Vincent returned favour.
A total of four Paralympic medals were won by Traralgon-based athletes at the games, with Beecroft's double added to by Ruby Storm who also won a silver and a bronze.