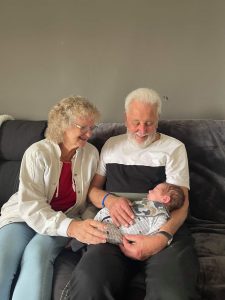 ACTIVE members of the local community, Alan and Marilyn Barnard celebrated their 60th
wedding anniversary on September 16.
The two grew up together in Essex, England. They lived in the same town and went to same school.
Their faith has been a big part of their lives since their first date, when Marilyn told Alan she would only go to a dance with him if he attended church with her.
After marrying in their early 20s, the newlyweds hopped on a boat with their first child, Vivian, and migrated to Australia.
After settling in Traralgon, which Mrs Barnard said was "a very sweet country town'', they had two more children John and Catherine.
The couple's youngest daughter Catherine Barlow, laughed as she recounted the story of
her parents' arrival in Australia.
"They came over here on a boat, and they assumed that their friends who picked them up
were living in Melbourne somewhere… and these people just kept driving and driving and driving and they ended up in Traralgon," she said.
Although Mr Barnard had a job lined-up in Melbourne, Mrs Barnard said "we prayed about
it, and we felt that god said stay where you are''.
Mr Barnard worked for many years as a supply manager at the former Traralgon Hospital.
The couple moved to Hazelwood North andopened a bed and breakfast, before Mr Barnard
became a pastor at Apostolic Church (now Eternity Church) in Morwell, a position he held for 10 years.
Now in their eighties, the couple are still involved in the community, currently as leaders of an over 60s group called 'Living Legends' at Morwell's Eternity Church.
Ms Barlow explains her parents have "just been a shining example on how to parent, and how to be married and stay married".
They do everything together "they cook together, and they garden together, they're together all the time."
"They're almost one person, rather than two," Ms Barlow said fondly.
When asked what was the key to their long lasting marriage.
"Loving each other, and knowing god. And being united in him. It's not just two people in our marriage, its three," Mrs Barnard said.
Now living in Moe, the couple enjoy their time at the gym, in their kitchen and gardening. They have 10 grandchildren and four great-grandchildren.