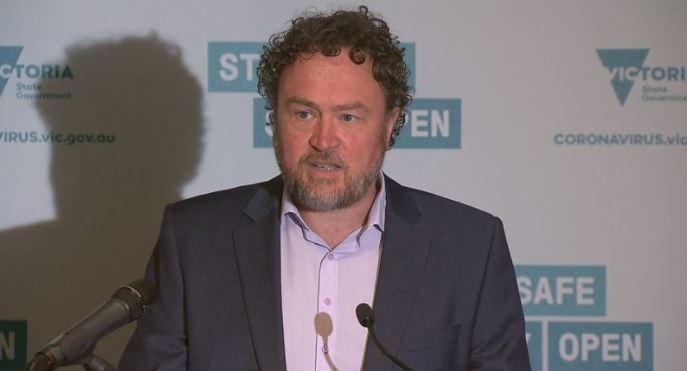 Gregor Mactaggart
Latrobe City will go into a seven-day lockdown as of 11.59pm tonight.
The state's acting chief health officer Professor Ben Cowie announced the declaration at 6.35pm.
"Caseloads in Latrobe City have rapidly increased in recent days, with 18 active cases in this Local Government Area (LGA) as of September 28," Professor Cowie said.
"A further four cases have been confirmed today through to this afternoon, and will be reported in tomorrow's numbers.
"The public health teams have significant concerns about onward transmission in the Latrobe Valley and have determined that the seven-day lockdown is needed to limit growth in cases, as it did in Ballarat and Geelong.
"Please follow the lockdown restrictions, get tested if you have symptoms, and get vaccinated if you haven't already.
"We've just seen the Ballarat and Geelong communities get through an outbreak so we know it can be done – it's vital we protect the local community and the rest of regional Victoria from significant outbreaks."
The lockdown applies for the entire Latrobe City Local Government Area, which means Boolarra, Callignee, Churchill, Glengarry, Hazelwood North, Jeeralang, Moe, Morwell, Newborough, Toongabbie, Traralgon, Tyers, Yallourn North and Yinnar.
It means that residents of Latrobe City will be under the same restrictions as Melbourne apart from the curfew.
Under the lockdown, you can only leave home for limited reasons: necessary goods and services, caregiving or compassionate reasons (including medical care and getting a COVID-19 test), authorised work or permitted education, exercise and outdoor social interaction in limited groups, and getting a COVID-19 vaccine locally.
You can also leave home to visit your intimate partner or single social bubble buddy. No other visitors are allowed in the home.
Shopping, exercise and outdoor social interaction will be limited to 15km from your home.
Masks will be mandatory indoors and outdoors. Remember to wear masks on public transport.
You have four hours a day for exercise and outdoor social interaction.
You can meet with one other person, or up to four others from two households if all present are fully vaccinated. Dependants can also join you.
You can't leave the Latrobe City area and travel elsewhere in regional Victoria other than for limited reasons, such as authorised work and permitted education, care and compassionate reasons, visiting an intimate partner, and necessary goods and services (only if they can't be obtained locally).
Locals are asked to be on high alert for symptoms and get tested if any develop.
A rapid response testing team has been deployed to provide support for the testing site at the Gippsland Regional Indoor Sports Stadium on Ashby St in Traralgon, and additional resources will be provided to boost capacity and extend opening hours.
This testing centre is in addition to testing sites at the Australian Clinical Labs on Grey Street in Traralgon, the Latrobe Respiratory Clinic on Princes Drive in Morwell, the Dorevitch Pathology Drive Through site at Latrobe Regional Hospital, and the Moe Senior Citizens' Centre on Langford Street.
Testing capacity will also be boosted in Baw Baw and Bass Coast.
In Latrobe City, more than 73 per cent of the population have had at least their first vaccination dose and more than 44 per cent have had both.
In addition to government clinics, local GP and pharmacies are offering COVID-19 vaccinations.
Visit www.coronavirus.vic.gov.au/vaccine for links to state-run, pharmacy and GP booking systems.
For more information on the lockdown restrictions that will be in place in Latrobe City at 11:59pm tonight, please visit www.coronavirus.vic.gov.au/how-we-live.
Gippsland Region Public Health Unit (GRPHU) announced four Tier 1 exposure sites this afternoon as well as three additional cases.
The Tier 1 exposure sites are as follows:
Repco, Morwell
Thursday, September 23, 8am-12.30pm
Repco, Traralgon
Monday, September 20, 7am-5.30pm
Tuesday, September 21, 7am-5.30pm
Wednesday, September 22, 7am-5.30pm
A GRPHU spokesperson said anyone who has visited a Tier 1 exposure site during the times listed must immediately isolate, get a COVID-19 test and quarantine for 14 days from the date of exposure regardless of the result.
There are also two new Tier 2 exposure sites.
They are as follows:
Bunnings Warehouse, Traralgon
Friday, September 24, 1.00pm – 2.00pm
Woolworths, Traralgon
Saturday, September 25, 12.15pm – 12.45pm
Testing opportunities in Latrobe City include;
• Gippsland Regional Indoor Sports Stadium drive through, Ashby St, Traralgon 9.30am – 5pm Wednesday, September 29, Thursday, September 30, Friday, October 1. No appointments required.
• Dorevitch Pathology drive through at LRH, Traralgon 10am – 3pm Wednesday, September 29, 10am -3pm Thursday, September 30, 9am – 11.30am Friday, October 1. For bookings contact 5165 0800.
• LCHS – Senior Citizens Centre, Moe – Walk-up, no appointments necessary. 9am – 11am Wednesday, September 29, Thursday, September 30, 9am – 11am and 1pm – 4pm, Friday, October 1, 9am – 12pm.