Gregor Mactaggart
FOUR new COVID-19 positive cases have been reported in Latrobe City during the past 24 hours.
These lift the total of active cases in the region to 22.
All the new cases are in the 3844 postcode (Traralgon and district).
Health Minister Martin Foley said the decision to introduce a lockdown across Latrobe City last night was necessary to stop the spread of COVID-19.
"We had little or no choice through the public health advice to act, and act quickly," Mr Foley said.
"We apologise for the short notice, but it was a rapidly deteriorating situation and the decision was made to keep that community as safe as possible."
Mr Foley said two new pop-up clinics have been established to cope with the demand.
"Support has been increased," he said.
"We are also ramping up the vaccination efforts in Latrobe City in response to the outbreak.
"The Traralgon Racecourse vaccination site and seven other clinics will be extending their operating hours and opening up on Saturday."
The state's acting chief health officer, Professor Ben Cowie, echoed Mr Foley's sentiments around the short notice given to Latrobe City residents regarding the lockdown measures.
"I would much rather be apologising for a short amount of warning (about lockdown), rather than waiting and resulting in a significant increase in transmission," Prof Cowie said.
"We had seen a significant increase in the number of cases in the Latrobe City area.
"The number of primary close contacts approached 100 yesterday and we saw the number of exposure sites start to build … we learned of some connections between family groups.
"We spoke to the local public health unit, local state run GP clinics, Latrobe City, took advice from all the players on the ground.
"The decision (to lockdown) was a public health necessity."
Gippsland Region Public Health Unit (GRPHU) said one of the additional pop-up testing sites has been established at Ronald Reserve, Morwell (Morwell East football ground).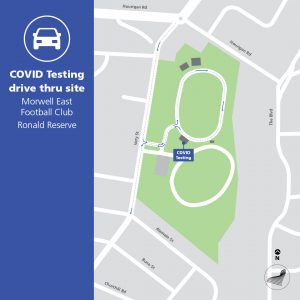 To access the Morwell East Football Netball Ground, please follow traffic management signage and enter from Vary Street, heading south from Hourigan Road. Turn left to drive around the oval to the testing site.
A GRPHU spokesperson asked for people to please refrain from blocking local residents' driveways.
Additional testing sites in Latrobe City include;
• Gippsland Regional Indoor Sports Stadium drive through, Traralgon 9.30am–5pm today, Thursday, September 30 and Friday, October 1. No appointments required.
• Dorevitch Pathology drive through at LRH, Traralgon 10am-3pm today and tomorrow, and 9am-11.30am Friday. For bookings contact 5165 0800.
• LCHS – Senior Citizens Centre, Moe – Walk-up, no appointments necessary. 9am–11am today and 9am–11am and 1pm – 4pm tomorrow, and 9am – 12pm Friday.
Mr Foley also said a further 5000 Moderna vaccines would be provided in Latrobe City to bolster the state-run clinics.
Latrobe City's four cases feature among 30 new COVID-19 positive cases across regional Victoria today.
There are two fresh cases in Wellington, one in Baw Baw and one in South Gippsland.
Victoria recorded 950 fresh cases in the past 24 hours, all of which were locally-acquired, lifting the total of active cases across the state to 9890.
CURRENT LIST OF EXPOSURE SITES IN LATROBE CITY
TIER 1
Repco, Morwell
Thursday, September 23, 8am-12.30pm
Repco, Traralgon
Monday, September 20, 7am-5.30pm
Tuesday, September 21, 7am-5.30pm
Wednesday, September 22, 7am-5.30pm
Thursday, September 23, 12pm-5.30pm
Friday, September 24, 8am-5.30pm
A GRPHU spokesperson said anyone who has visited a Tier 1 exposure site during the times listed must immediately isolate, get a COVID-19 test and quarantine for 14 days from the date of exposure regardless of the result.
TIER 2
Bunnings Warehouse, Traralgon
Friday, September 24, 1.00pm – 2.00pm
Woolworths, Traralgon
Saturday, September 25, 12.15pm – 12.45pm
Montague Pharmacy, Rintoull St, Morwell
Wednesday, September 22, 2.30pm-3pm
Kmart, Traralgon Centre Plaza
Tuesday, September 21, 10am-10.35am
Thursday, September 16, 2.05pm-2.20pm
Wednesday, September 15, 2.40pm-3.15pm
Coles, Traralgon Centre Plaza
Tuesday, September 21, 10.20am-10.45am
Thursday, September 16, 2.20pm-2.45pm
Wednesday, September 15, 2.50pm-3.20pm
Bunnings Warehouse, Morwell
Tuesday, September 21, 5.10pm-5.35pm
Tyre Service, Traralgon Centre Plaza
Tuesday, September 21, 9.30am-9.55am and 11.15am-11.45am
Coles, Moe
Wednesday, September 22, 6.30pm-7.05pm
Dear Delilah Florist, Morwell
Wednesday, September 22, 2pm-2.30pm and 4pm-4.30pm
Shell Service Station, Traralgon
Tuesday, September 21, 11.30am-12pm
Coles, Morwell
Wednesday, September 22, 9.30am-10am
Woolworths, Mid Valley Shopping Centre, Morwell
Wednesday, September 22, 10.10am-10.40am
Bunnings Warehouse, Traralgon
Wednesday, September 15, 5.25pm-6.50pm
Cotton On, Traralgon Centre Plaza
Tuesday, September 21, 9.45am-11.30am
QBD Books, Traralgon Centre Plaza
Tuesday, September 21, 11am-11.30am
Officeworks, Traralgon
Wednesday, September 15, 7am-8.30am
Cooinda Hill Opportunity Shop, Traralgon
Thursday, September 16, 1.30pm-2pm