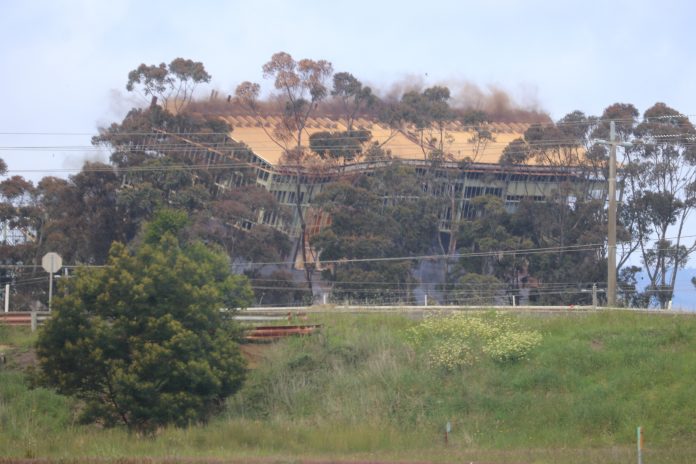 Michelle Slater
The last piece of the former Hazelwood Power Station hit the deck at about 11.30 this morning when boiler house one was demolished, ending a 50-year history of power production in Morwell.
ENGIE head of corporate affairs Ryan Auger described the successful collapse as an "end of an era" in what was the final part of the Hazelwood demolition program.
"It's a big step in returning the power station to a natural state after 50 years of industrial mining and operations, it's the last marker of the power station on the Hazelwood site," Mr Auger said.
"Our completing this successfully is the best way we can recognise the legacy of Hazelwood in the Latrobe Valley and to prepare the site for future investment."
An assembly of Hazelwood staff, contractors and visitors gathered onsite to watch the blast from outside an exclusion zone.
A cloud of coal dust billowed and cleared, leaving a void on the horizon where the power station once stood as a Morwell landmark for many decades.
Mr Auger said there were fire services on standby to watch out for any hotspots post-demolition, as well as noise, dust sensors and monitors set up in and around the mine licence area.
"It's inevitable after 50 years that there will be some coal dust, it's impossible to remove it completely, but we are confident we have the personnel in place to manage hotpots or spot fires," Mr Auger said.
"There will be little evidence there was ever an operating power station there, aside from the transmission yard and a control room owned and operated by AusNet."
Mr Auger said the next step in the program would be to recycle 20,000 tonnes of boiler house debris and remove some smaller buildings, leaving the site completely clear by next April.
He said the final boiler house demolition had been put back from last week to wait for the "perfect weather and atmospheric conditions", and to account for some COVID delays.
Mr Auger said ENGIE was preparing environmental assessments to the state and federal governments to determine the final water levels in the open cut as part of mine rehabilitation plans.
He said the Hazelwood mine had begun to receive water as part of Morwell River Diversion works, by allowing underground aquifers to recover "to a point of equilibrium".
The works will divert floodwater from the Morwell River into the edge of the south western corner of the mine.
"The diversion is designed so that normal river flows will continue to flow through the Morwell River Diversion along the Hazelwood mine's western perimeter," Mr Auger said.
"Only in the case of flood would water be diverted into the Hazelwood mine."