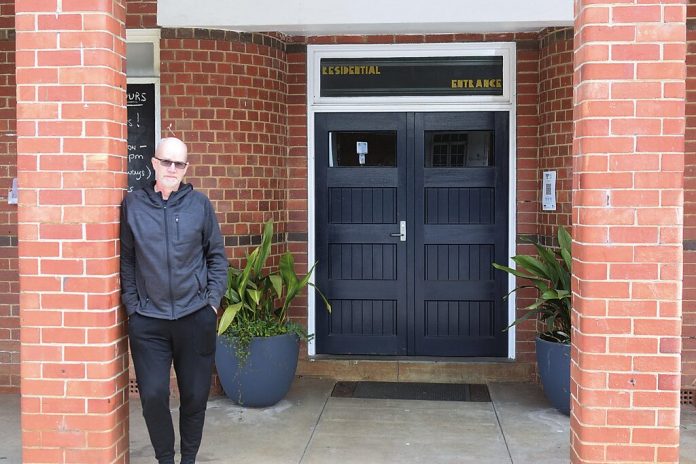 LIAM DURKIN
By LIAM DURKIN
THE iconic Travellers Rest Hotel, Thorpdale has returned with a bang after a brief hiatus.
The pub underwent a staged reopening earlier this year, which initially only consisted of the bar operating while the restaurant section was being finalised.
However, the pub closed the bar in June in order to recalibrate its business plan following a few teething problems turning the old-school knockabout pub into something more
up-market.
Since then, owners of the Travellers Rest Hotel have gone back to basics, with a more traditional menu and some tried and true pub philosophies reaping the rewards.
Locals have flooded back in a COVIDSafe
manner, once again putting their lips around an ice cold beer or grabbing a takeaway feed to enjoy at home.
Amazingly, despite COVID, the pub reported more than 100 meals had been sold across a recent Friday and Saturday peak period.
While there are still grandiose plans to install a distillery downstairs and accommodation upstairs, co-owner Sean McCarthy said it was pleasing to know locals saw a place for the pub in such a small town.
"We're really pleased to be back, the response has been fantastic … we never thought we'd be doing 75 to 80 meals on Friday night and then 20 to 30 takeaway as well," he said.
With an eye to the immediate future, Mr McCarthy said the pub's team was waiting in anticipation for restrictions to ease further.
"We're looking forward to not having so many restrictions in place because at the moment we can really only have 10 people in the dining room," he said.
"We're going to be asking for vaccination
certificates down the track according to local government requirements but at the moment we seem to be able to churn people through fairly well.
"People's compliance has been really good. People understand that we are subject to limitations."
Moving forward, Mr McCarthy said the pub would play a vital role in the potato farming
community, especially as more people come to the area for the harvest, which usually begins in January.
"All in all the business is in a great space and it's all looking really optimistic," he said.
"We're really looking forward to daylight saving, the picking season and summer when we'll be able to offer extended hours, think about having music offerings and maybe some functions as well.
"It (the pub) really is an institution. I think one of the lessons that we've learnt is not only do we want this venue to be able to attract people from out of town, but it is really a local meeting point, socially it is important as a local stopping point so it is really important we cater for the local people as well as out-of-towners."
The Travellers Rest Hotel is currently serving patrons on Friday and Saturday, but all going well, will open its doors for more days in coming weeks.