WRESTLING
By LIAM DURKIN
MOE is renowned for a few unique things.
It has Australia's first Aussie Disposals, a horse racing track in the middle of town and one of the few places left with an active video hire shop.
It is also the hometown of Ken 'Dazzler' Dunlop, who has chronicled his life as a professional wrestler into a new book.
The autobiography, titled, 'Dazzler Dunlop: Inside My Squared Circle' tells of Dunlop's more than 20-year professional wrestling career.
From 1977 to 2000 Dunlop not only wrestled, but also promoted, refereed, announced and trained fellow wrestlers, all the while working through his life and career as an openly gay man.
During his career he won no shortage of accolades including the Australian Light Heavyweight Title on two occasions and the Australian Heavyweight Title.
His achievements and service to the sport eventually saw him inducted into the Australian Wrestling Hall of Fame.
GROWING UP IN MOE
BORN in 1960 at Yallourn Medical Centre, Dunlop spent the first 13 years of his life in Moe, and like most youngsters, took an interest in a variety of sports during his school years.
"We lived up in Elizabeth St, that was a lovely house up there, it was fantastic," he said.
"I did all my state school at Elizabeth Street State School until Grade 4, then I did Grade 5 and 6 at South Street (Primary) and I did Form 1 at Moe High.
"I played under eights at Moe Colts Football Club. I tried soccer, played basketball at school. I wasn't great at football, I was always reserve, I was never good enough to play in the main game, but I enjoyed playing Aussie Rules."
While he enjoyed those sports, wrestling proved to be the one he became hooked on.
"All my family were huge wrestling fans," he said.
"World Championship Wrestling started in 1964 and it was on Saturday and Sunday lunchtimes, we used to watch it on the telly as a family.
"They use to come to Kernot Hall in Yallourn in those days (since moved to Morwell). They would go up there three or four times a year so we would always go to those shows.
"I was a massive fan … mum really loved it."
WRESTLING IN THE HALCYON DAYS
THE Dunlop family had to leave Moe in 1973 due to a shortage of work, and made their way to Melbourne.
The relocation was a blessing for young Ken, who was immediately surrounded by the glitz and glamour of the wrestling scene.
"When we moved to Melbourne mum and I went every Saturday night to Festival Hall," he told The Express.
"Wrestling in Australia was massive in the early 60s right through to the late 70s.
"It used to get huge ratings on the TV. Festival Hall would be packed out with 6000 people every Saturday night for 10-11 months of the year.
"I remember one time Jack Little was the main compare and got injured by one of the wrestlers – it was major news, on every sport channel the next night, it was on the front page of the two Sunday papers the next day."
Dunlop attributed this popularity to the multiculturalism that swept
Melbourne in the aftermath of World War II.
"I think because they had the Italians, the Greeks, the Lebanese, all the different nationalities, they might not have understood English but they understood wrestling," he said.
"They'd see their Greek heroes or their Italian heroes and I think that's where Jim Barnett who was an American promoter, he was a very, very smart man, he would build up one if there was a bigger population."
As a bright-eyed wannabe, Dunlop rubbed shoulders with performers of the day and jumped at the opportunity to emulate those he saw in the ring.
"I got to meet some of the local wrestlers and when I turned 16 some of them said 'do you want to start learning?' I was just blown out of the water – I loved it," he said.
STARTING OUT
DUNLOP began training to become a professional wrestler before his 18th birthday, a process he said involved a lot of practise in nailing various technicalities.
"The first and hardest part is learning how to fall, you can't learn any holds until you know how to fall properly," he said.
"It can take you a good month to get the break-falls right so you don't hurt yourself.
"When you do your first break fall and you might get winded – you just have to get back up.
"You have to be able to get on the top rope and basically fall flat on your face and also do like a backflip off the top rope without winding yourself.
"Then you have to learn all your basic holds, and that can take three to six months. It's really hard, all your skin comes off your elbow.
"It was a very slow process, we trained twice a week and every now and again on a Saturday morning as well just to hone your skills.
"I had the fortune of training with five different guys who were teaching me and they all had different styles so it was good to learn to adapt to everyone's different style.
"We used to train for two to three hours. One of the trainers I had at the time, Casey Miller, was a very tough old fashioned guy and if you did something wrong he'd either smack you round the back of the head or boot you up the backside and just yell at you to do it again.
"Back then that was normal. It was good in one way, it pushed you and you wanted to learn more and get better.
"At the time you had to be 18 to be able to wrestle in the clubs in Melbourne.
"I had my first match at 17 and eight months, I had to sneak into the club with other guys so they wouldn't ask for ID."
DEVELOPING A STYLE
THE storyline that was first attached to Dunlop was as an acrobatic youth full of exuberance.
"Because I was young and skinny I was a bit of a high flyer," he said.
"Back in my day we had to do every match 20 minutes, 30 minutes, even 40 minutes, I've even done a couple of one hour matches.
"We were lucky at the time, World Championship Wrestling finished in December 1978 and I had my first match in August '78. There wasn't many new young guys coming through.
"Jack Little came down to watch us train and got to choose which one got a push and he chose me.
"They pushed us as 'lightweights' and 'up and comings'. The first few matches we just did 10 minutes and it was a good learning curve."
As he grew in experience and confidence, Dunlop eventually found himself attracting the attention of more promoters.
"Sydney had a lot bigger wrestling scene than Melbourne, basically because of the RSL clubs," he said.
"I came up and did a show for Steve Rackman who was the main promoter. He liked it so he offered me to come up so I moved up in December '79. "In Melbourne we were doing two shows a month, all of a sudden we were doing 15 shows a month … it was fantastic.
"I got to train with Roy Heffernan who was one of the legends of Australian wrestling, he was known as the 'Fabulous Kangaroo' as he travelled all around the world for nearly 20 years. It was just incredible."
It was Heffernan who gave Dunlop the nickname 'Dazzler'.
"There was an English wrestler 'someone Dazzler' and Roy saw something in him in me," he said.
"So he gave me the nickname and it stuck with me for the rest of my career."
THE HIGH POINTS
DURING his time as a professional wrestler, Dunlop said the greatest aspect was experiencing the thrill of performing in front of a ballistic crowd screaming wildly.
"It was amazing. I loved it – especially when they hate you," he said cheekily.
"Just that feeling … just the power of the crowds and the energy you get from the crowds.
"They know it is scripted but if you are doing your job right and stirring them up, you're getting heat from the crowd, that's what you are there for.
"I loved playing a bad guy, I preferred that, just to have those people hate you is a good feeling.
"It's 90 per cent showmanship, that is what you are there for – the crowd reaction. Promoters love the reaction from the crowd."
As Dunlop explained, a skill of a wrestler also depended on their ability to improvise.
"You always have to be prepared for things going off-script," he said.
"If you go off-script they (promoters) get cranky with you sometimes. I promoted for eight years myself and I would plan all the shows at least three-four months in advance for every club – all you need is one thing to go off-script and you have to go back and rewrite the whole thing.
"Sometimes someone gets injured or they don't turn up, you can get injuries in the ring.
"Ego can take over as well. When I was in England I was wrestling this guy, they wanted to build him up because he was from the local area. I was trying to talk to him about what I would do to start the match off to make him look really good.
"He had no idea what I was talking about, he was absolutely hopeless, he was a newcomer. I was trying my hardest to make him look good and he just kept stuffing up so in the end I took over and just starting beating him."
MOMENTS OF MADNESS
DUNLOP had no trouble engaging and provoking his audience, and was involved in a fair share of altercations during his career.
"It does have its drawbacks, you do get attacked, threats, things thrown at your car, several times I had my face busted open by the crowd, had a knife pulled on me, guy threatened to kill me … it can get pretty scary at times," he said.
"When we did a show in Adelaide at a big basketball stadium I was supposed to be the good guy and for some reason the crowd absolutely hated me. In the end I just twisted it around and became a baddy. I had to get security to escort me out.
"We did a show and the crowd started throwing chairs at me and my tag team partner so we had to stand back-to-back and there was about 20 chairs thrown at us in the ring. That night we had to leave through the bathroom window.
"Sydney was a lot stricter than Melbourne for their rules. Because it was in the RSL clubs you weren't supposed to have any guys fighting outside the ring on the floor, they were really strict, they had licencing police that had to attend every show and had the power to stop shows if they thought it got out of control.
"In Sydney, we weren't allowed to bleed. Occasionally you'd get split open accidentally, whereas in Melbourne they didn't have any rules.
"You had to adjust to the state you were performing in."
RUBBING SHOULDERS WITH THE GREATS
THROUGHOUT his career Dunlop rubbed shoulders with many famous wrestlers, and also performed on the same card as some of the biggest names in the game including the world renowned Andre The Giant and Killer Khan.
While his hulking 236 kilogram frame and towering 224 centimetre height might have suggested otherwise, Dunlop said the Frenchman was very much the gentle giant.
"He was very, very friendly, very nice, he spoke to everyone and he remembered guys from when he toured earlier," Dunlop said of Andre The Giant.
"He loved telling jokes, but because of his strong accent you couldn't understand what he was saying half the time. He'd slap his hand on the table and start laughing so we'd just laugh along with him."
If anyone was wondering what a man of Andre The Giant's size was capable of, Dunlop recalled one instance that left a lasting impression.
"We took a minibus from Sydney to Newcastle and they had to take the first row of seats out in the bus so he could fit in the second seat and stretch out," he said.
"We pulled into a service station to get a snack. All the boys got a can of Coke and a hamburger and chips. Andre got two litres of Coke, three barbecue chickens cut up, a whole loaf of bread buttered – and that was just a snack.
"On the way home he had a wine and a carton of beer – and that was just in that two and a half hour drive."
Performing on the same card as Andre The Giant provided another awe inspiring moment for Dunlop, who was one of the few locals given the honour.
"When they bought him out to Australia they only used six local guys to do the tour and I was one of them they chose," he said.
"In 1985 there was a promoter who brought out a whole bunch of Americans, the Youngblood brothers (Mark and Jay Youngblood), The Cuban Assassin, there was two Japanese wrestlers and they were going to do a three month tour of Australia. I was lucky enough to be one of the six locals they chose for that, we were on the road seven days a week.
"That was a fantastic time, just such a great experience."
It was during this time Dunlop went through one memorable match that even gained acknowledgement from the greats.
"The good thing is the first night I wrestled on the same card as Andre, I was in the first match with Kenny Medlin who is probably the greatest wrestler that I've ever seen in Australia, and the promoter told us not to do anything fancy to build up the crowd for the big stars," he said.
"I looked at Medlin and said 'what will we do?' and he said 'stuff em' we'll do everything!'
"We had an absolutely sensational match. When I was walking back to the dressing room there was Don Muraco, who was the original Rock, and Andre The Giant actually sitting there watching my match.
"I thought 'oh God they are going to kill me'. They both shook my hand, patted me on the back and said 'fantastic match', so that was a huge honour. When we got back in the room the promoter screamed and yelled at us, he said 'how can we follow that!'"
SLOWING DOWN
FOR Dunlop, the highs of wrestling far outweighed the lows, but injuries eventually began to take their toll.
Incredibly, Dazzler estimates he was concussed more than a dozen times and said he is still feeling the effects today.
"I'm 60 and I'm crippled up. I've had both my knees replaced. Shoulder reconstructed, I need to have my right shoulder reconstructed for a third time, I need my hips replaced, plates in my foot," he said.
"Most of the old wrestlers have all had hip replacements and knee replacements.
"It's very, very hard on your body."
In later years Dunlop slowed down as the injuries mounted, just filling in for shows where he could.
Eventually he ended at the place he started – in Melbourne.
His swansong came in 2000 in a fight against his younger brother – who he let win.
"You always have to build up the young guys," he said.
"It was a nice way to finish, all the family were there."
LIFE AS A GAY MAN
THESE days, Dazzler Dunlop is based in Sydney, and keeps tabs on wrestling, training people from time to time in Penrith.
He doesn't watch much wrestling on TV, and laments things like the WWE as being far too scripted with too much talk and not enough action.
As an openly gay man in the industry, Dunlop said there was some speed bumps along the way, although his fellow wrestlers accepted his choice.
"All the guys I taught I told them right from the start that I was gay and if they had an issue with it to just walk away – I never had any problems with it," he said.
"You didn't scream out that you were gay, but if anyone asked I was always honest with them.
"I had a few problems over the years, when the AIDS crisis hit that was a massive problem as well dealing with it at the time.
"When I moved to Sydney it was a huge eye-opener because it was just so open compared to Melbourne.
"There was only one other wrestler at the time who was openly gay, there might have been a few others but they never came out."
Thankfully, Dunlop said things had come a long way since his early days.
"In Australia today I think there is six or seven openly gay wrestlers male and female and there is no issue which is fantastic," he said.
"I have spoken to a couple of them and offered any support."
KEEPING TABS
THE local connection remains strong, with Dunlop's brother still living in Moe, as well as a sister-in-law in Morwell and a niece and nephew who live in the Gippsland region.
Dazzler Dunlop said he "loves coming back to Moe".
The man himself even wrestled in Moe as a professional, performing at the Moe Town Hall in 1983 against Casey Miller.
Reflecting on his career, Dunlop said the great people he met through wrestling would stay with him forever.
"The mateship, the friends, the people I've trained, I've godfathered some of their children, I've been to their weddings and unfortunately a lot of funerals … it's all part of the wrestling fraternity," he said.
'Dazzler Dunlop: Inside My Squared Circle' is out now.
Those interested in getting a copy of the book can do so by visiting https://www.shawlinepublishing.com.au/our-titles/coming-soon/display/108-dazzler-dunlop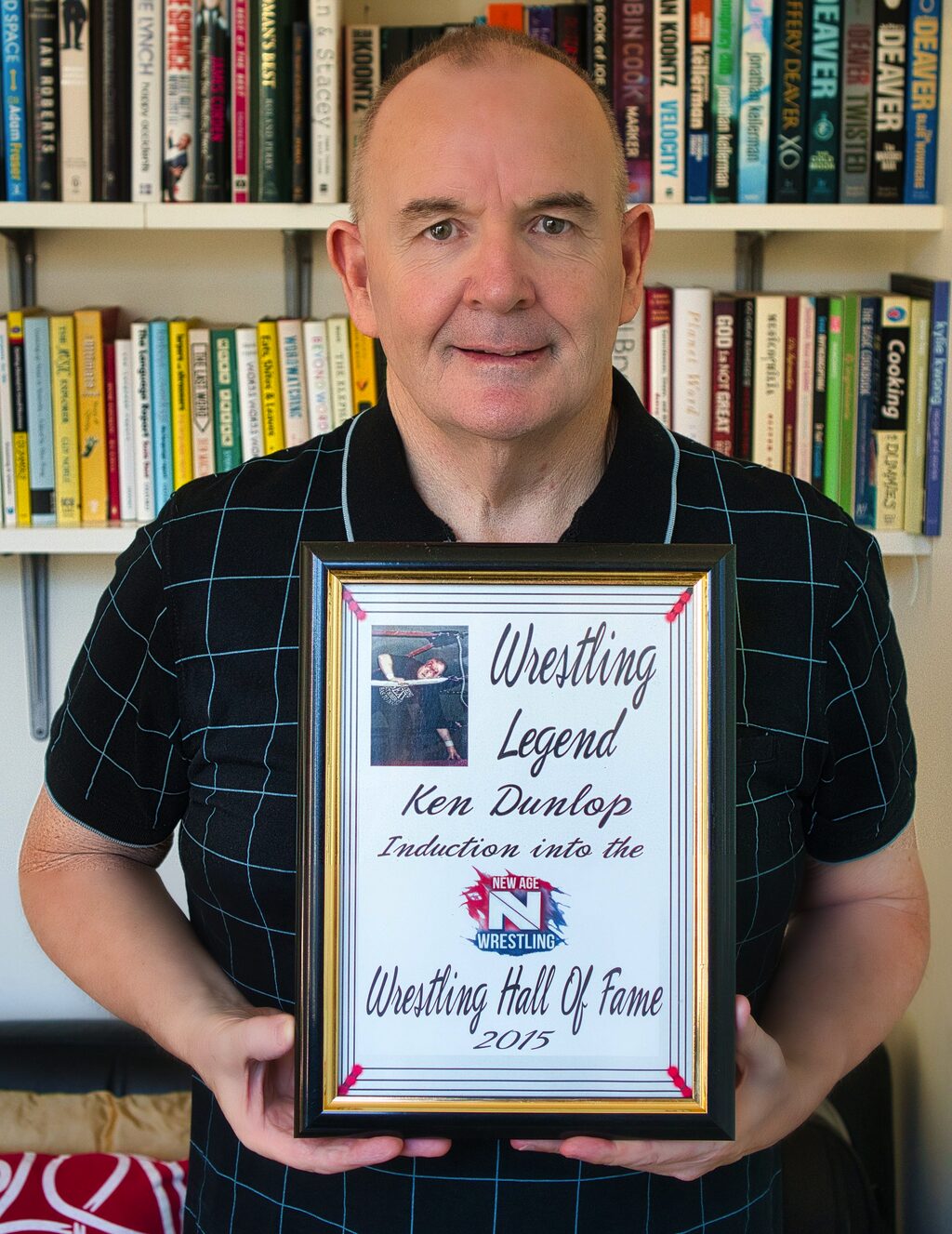 Officially a legend: Ken Dunlop proudly displays his Wrestling Hall of Fame certificate.
Read all about it: A new book detailing the life of former Moe professional wrestler Ken 'Dazzler' Dunlop is now available.