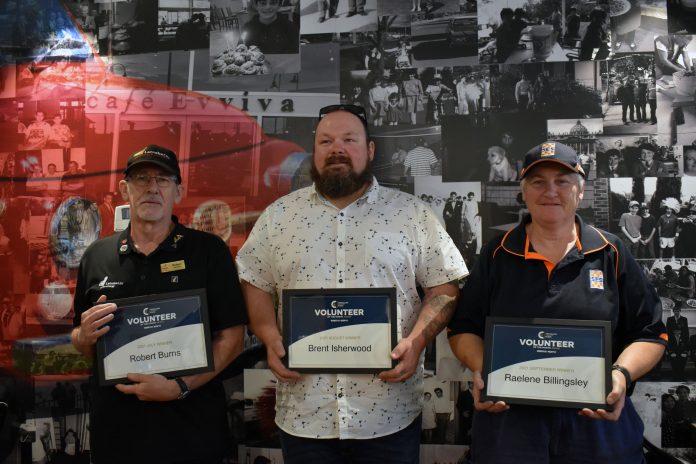 Alyssa Fritzlaff
TRARALGON Centre Plaza (TCP) presented three Volunteer of the Month Awards on Friday, November 19.
The award recipients were commended for their dedication to the community and respective organisations in the months of July, August, and September.
The winner for the month of July was Robert Burns, a volunteer tourism officer in Traralgon.
August's award was presented to Brent Isherwood from Traralgon City Soccer Club, and
September's winner was Raelene Billingsley from Morwell's State Emergency Services (SES).
Each volunteer was nominated by a colleague who felt they should be celebrated for their achievements.
The recipients were judged on their contributions through both their achievements at their organisation, and the benefits of their work to the community.
The three winners and their colleagues who nominated them, attended a morning tea at Café Evviva.
The tea was hosted by TCP marketing manager Adele Nardino, who presented each volunteer with a framed certificate.
Many volunteers were commended for their extensive commitment to their organisations.
Ms Billingsley has volunteered for the SES for more than 30 years and was not expecting the award.
However, she told The Express she was feeling "chuffed" about receiving it.
During the presentation Mr Isherwood was commended for his "tireless work" at the soccer club, and Mr Burns was recognised for more than 20 years of volunteering.
Chloe Marrable, Mr Burns' colleague, estimated that during his 20 years, "he has helped out around 10,000 people".
For many of the volunteers, the awards were welcome recognition for their efforts.
Each winner was awarded $500 of which goes toward an organisation of their choosing.
Additionally, those who nominated a volunteered also received $250.
Much of this money is going back into the community through the recipients generous donations.