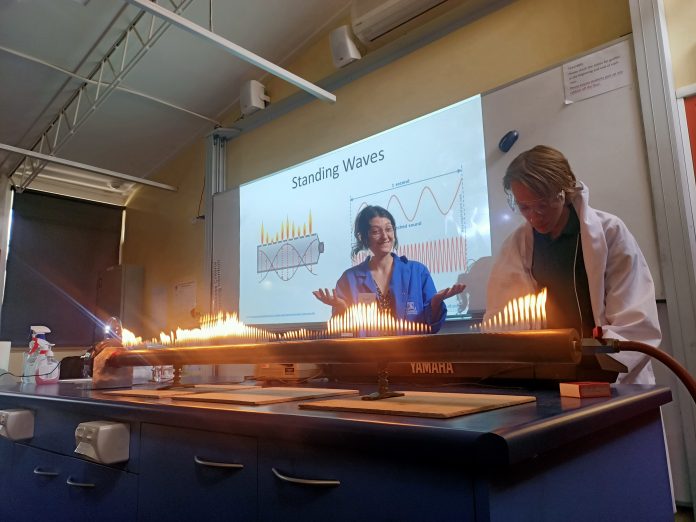 Alyssa Fritzlaff
A SCIENCE roadshow captivated local students during its visit to Trafalgar High School.
University of Melbourne's Science Delivery program presented the exciting science session earlier this month.
Over the last two years, the presentations have had to happen online.
However, this year it is back on the road.
In the sessions, students were got to experience boiling molten metal, flaming waves, a collection of skulls and lung dissections.
The aim of the program is to increase the participation of high school students from low socio-economic backgrounds in science, technology, engineering and mathematics (STEM).
Trafalgar High School's Head of Science Ashley Bannister said the demonstration was "fantastic".
"I think it's really great for them to see students who have had similar upbringings, and are also from regional areas succeed and go to university, and to hear from them that it is possible," she said.
"We can tell then as teachers, but having them hear it from young adults, and people that are closer to their age, or have graduated more recently from high school, they take it a on board a bit Morwell."
Ms Bannister said it was good to have an in person demonstration.
"We have had very little opportunities recently to have big wow-factor science pracs, we did our best to get them doing things at home," she said.
This is the first time the Melbourne University program has attended Trafalgar High School and Ms Bannister reported the staff were impressed with the quality of the demonstration.
"They nailed it, the way they presented it and the structure of the day… it was absolutely fantastic," Ms Bannister said.
"We will have them back for sure."
The program is presented by current Bachelor of Science students, and allows high school students to get hands on with science and learn about studying the field at university.
All presenters are part of the Melbourne University's equity scheme for domestic students – Access Melbourne. Those in the scheme are either from rural areas, are from a financially disadvantaged background, or are Indigenous.
These students are able to connect with others and act as role models, by sharing their own unique stories.
Other schools included in the program are Maffra Secondary College and Bairnsdale Secondary College.