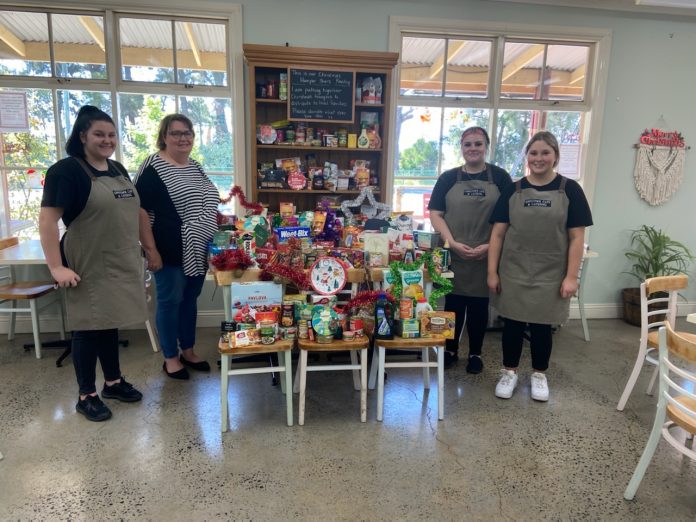 Alyssa Fritzlaff
GIPPSTOWN Cafe has made a significant donation to a local family violence organisation.
Located in Old Gippstown Moe, the cafe has been accumulating donations over the holiday period from their many supportive customers.
Deb Skinner, café manager, wants to thank her "amazing customers" for their generosity and contributions.
"The response has been great," she said.
"Many were giving every week when they came to the café."
Ms Skinner created the Share Pantry in early October this year to support local families through difficult times. In the lead up to Christmas, she decided to support TCB Living to Thrive, in their creation of Christmas hampers for local families experiencing domestic
violence.
TCB is a not-for-profit organisation, located in Moe, that helps domestic violence survivors and young people transitioning from home.
Tracy Kippen from TCB came to collect the donations herself, and was astonished by the community's and café staff's generosity.
Ms Kippen reported that an estimated more than $200 worth of food items were donated, and a total of 40 hampers were able to be assembled from the café donations alone.
The donations included non-perishable items and some Christmas treats including plum puddings. Allowing vulnerable families to enjoy their Christmas and not have to worry about food.
Earlier in the year, local families were invited to register for a hamper via TCB's Facebook page.
"It's been a really hard time for families during COVID," Ms Kippen said.
"These donations mean that people are going to be able to eat for the next two weeks… it really does make a big difference, we've been really lucky."
In total, TCB created 100 hampers for local families in need, many of which were delivered to peoples homes by TCB staff.