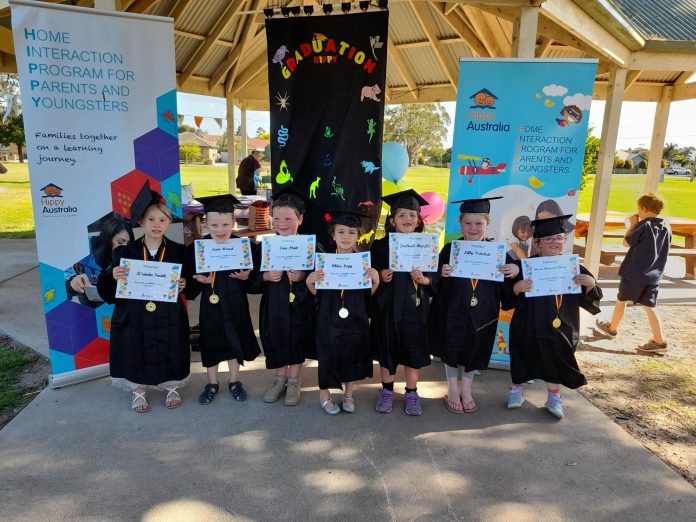 Alyssa Fritzlaff
LOCAL education program, the Home Interaction Program for Parents and Youngsters (HIPPY) Latrobe, is now open for expressions of interest.
HIPPY, a free program, is aimed at assisting parents in learning the skills and confidence to assist them in helping their children become school ready.
The 60-week program is targeted at vulnerable local families, and prioritises Aboriginal and Torres Strait Islander people across the Latrobe Valley.
HIPPY focuses on play-based educational activities and uses activity books to deliver the curriculum.
The Latrobe-based program is delivered by Anglicare Victoria in partnership with the Brotherhood of St Laurence, and has been operating since 2014.
It is open to families that have children who are aged four and are beginning kindergarten.
The curriculum can either be delivered in the home, or another place that the participants are comfortable in, such as a public park.
HIPPY is mutually beneficial for parents and children, and even employs parents that have undertaken the program, or are undertaking the program as tutors, providing them with employment and work experience.
Many parents who become tutors have either been out of work for a long time, or have not had the opportunity to enter the workforce. HIPPY strives to provide its tutors with part-time, family friendly employment.
As part of the program, tutors are given the opportunity to get on the job experience, study, and up-skill.
Parent's employed as tutors are responsible for delivering the program, and work closely with other families each week or each fortnight.
Local woman Jodie Smith is mother and HIPPY tutor to her daughter K'rinda Smith, who was part of the HIPPY graduating class of 2021.
Ms Smith is happy with what her daughter has gained from the program.
"I started HIPPY in 2020 with my daughter K'rinda, I'm so proud to see her thrive and achieve so much over the past year," she said.
"It has been so great to work with so many young, deadly people and their families."
Michelle Taranto, HIPPY program manager at Anglicare Victoria, said that this year's graduation is especially important, given the events of the last two years.
"Every child, every parent and every tutor who is part of Latrobe HIPPY has worked incredibly hard to get to graduation, and that should be celebrated," she said.
"While COVID-19 has been a real challenge, the work our families, children and tutors have put in is testament to all they have accomplished and will continue to do so.
"We know that each of the eight children in the 2021 graduation class has a head start at school, with families actively engaged with their education, and ready to shine."
Ms Taranto said that the program has a real impact on children who graduate.
"We see them enjoying learning, feeling more confident about their abilities and about engaging in learning opportunities everywhere," she said.
HIPPY Latrobe has now opened expressions of interest for the 2022 program.
To learn more, or register interest, call HIPPY coordinator Eliza Goyne on 5135 9555 or email hippy.latrobe@anglicarevic.org.au