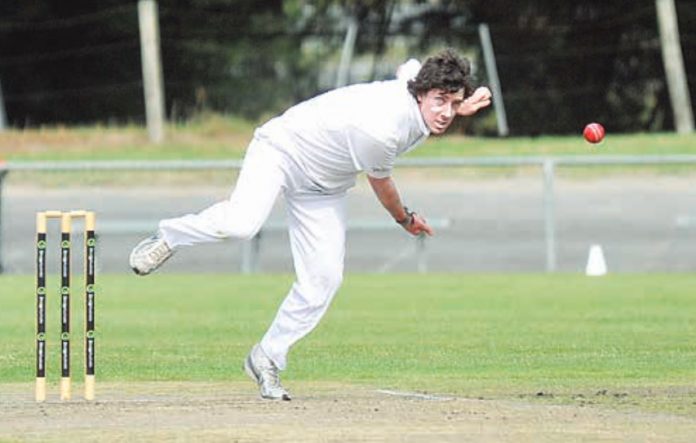 LIAM DURKIN
CRICKET
By LIAM DURKIN
UPON arrival at the wicket, the appearance of certain number 11 batsman indicates that the team's innings will be over in a matter of minutes.
As the last batsman trudges to the crease, the other nine players from the batting team are usually confined to the fact they will either soon be bowling or the game will be over.
For the batsman at the other end, he knows he will have to farm as much of the strike as possible.
A four-two break down is often adopted, if the number 11 can in fact survive two balls.
There could well be no point in the number 11 even checking where middle or leg stump is, as the act itself could just be a precursor as to which peg is about to be uprooted by the opening bowler who has come back to clean up the tail.
In club cricket there is a certain degree of 'disgrace avoidance' that goes on. Those who can't
bowl simply aren't given the ball by the captain, and those who can't field are ordered from fine leg to mid-off. For those who can't bat however – they still have to face the music every now and again.
There would be few sports that showcase something as silly as number 11s batting in cricket – sending out the player in the team who is least qualified to do a job against a bowler who
has probably already taken the scalps of those higher up the order.
True deer in the headlights stuff.
Number 11s make for public humiliation and some comic relief – especially if they manage to
connect with a few.
Most number 11s accept their position. Some are victims of circumstance and bat there because they simply can't get a look in, or are kids biding their time.
In a lot of cases however the quality of the number 11 actually reflects how strong a particular team is. Truthfully, a lot of number 11s would be able to bat at seven or eight, but by batting down the order they inadvertently do what is best for the team in the long run.
Moe opening bowler Sam Price played in five consecutive A Grade premierships for the Lions between 2008/09 and 2012/13, yet only batted 34 times in that period.
In the 2009/10 season he batted just three times after Christmas and ended the season with a grand total of four runs to his name.
With players the likes of Andrew Philip and Rob Phoenix in the top order, the need for Price to actually go out and bat rarely arose. Additionally, as a bowler, what a luxury it must have been for him to arrive to virtually every game knowing he could just concentrate solely on his job with the ball.
Former Latrobe first grade captain Brendan Evans went through a similar non-batting phase
between 2011/12 and 2013/14.
Evans batted just 14 times in 36 games in this period, as he and Price fought for supremacy in the number 11 stakes.
Similar to Price, Evans batted just twice after Christmas in 2012/13 as the recognised batsman in Anthony Bloomfield and Kaushik Aphale did the work up top. All-in-all his batting aggregate for that season was five runs.
To his credit however he did win Latrobe a game with the bat from number 11.
Chasing 168 against Yallourn North in 2011/12, Evans arrived with the game as good as gone at 9-95. He walked off a hero after top scoring with 45 not out as he and number 10 Adam Duncan put on 77 for the last wicket.
While Evans and Price's credentials as number 11's are valid, Central's Marc Fenech would have to take the mantle as the ultimate number 11.
Fenech has played close to 200 A Grade games for Centrals – but has only batted in just over half of them.
Trafalgar had a bizarre circumstance with their number 11 in the form of Klay Butler from 2006/07 to 2014/15. Butler, who has an A Grade ton to his name, batted at 11 in two premiership teams during that time.
It did serve a purpose however on two fronts.
Firstly, his role as the sides first choice finger spinner meant he needed to be fresh in order to bowl 30 plus overs, and secondly, can you imagine how opposition bowlers felt when they saw someone with an A Grade ton walking to the crease at number 11?
Number 11s and tail enders in general have made a bit of a name for themselves in Gippsland
cricket recently.
Brent Reside didn't score any runs for Morwell in the 2017/18 grand final, but his 29 run partnership with Jordan Campbell for the 10th wicket took the Tigers from a competitive 139 to an eventual winning total of 168.
Jeeralang-Boolarra's Rob Beamish had probably his greatest moment with the bat in A Grade
when he helped rescue the Panthers in a game two seasons ago.
Walking out with the score 9/74, Beamish combined with Stan Urbanic in a 57 run partnership for the last wicket against Trafalgar.
Beamish ended unbeaten on 18 to get the score to a tricky total of 131, and also enabled Urbanic to post his half century.
Due to wet weather and all other games across the day being washed out, the Ships needed to force a result on day one to make the day count, yet because of Beamish and his 85 minute vigil, they were denied any chance of achieving this.
Beamish's innings calls into question why the 10th wicket can often feel like the hardest one
to take.
For one dayers the last wicket generally falls amid an attempt to go for quick runs, but in two day games last wicket partnerships that drag out happen more often than not.
Reasons for include a greater emphasis on defensive play and the difficulties in bowling to tail enders of sheer unpredictability. Where the top order player might play correctly and edge a good length ball and provide a regulation catch, the tail ender is just as likely to back away and carve it through the off side.
Tail enders are often bowlers after all, so a lot of the time they are just facing themselves and
have some idea of what is coming.
There are still tail enders who belong in the old school category, those who figure they might as well swing at everything because they are going to get out sooner or later.
For a lot of players when they go into bat they just want to slog, laugh, see what happens, and then go out and bowl.
But the modern game demands more of tail enders, and especially number 11s. Unless you are an out and out gun bowler you probably aren't going to help your team by throwing the willow around mindlessly.
Genuine number 11s are never going to be very good at facing really fast bowlers, or quality spin for that matter, but they are capable of hanging
around.
They take balls on the body and most have at least a decent forward defence. If the ball is pitched up around off stump they will shuffle their front foot somewhere in the vicinity of the ball to either block or leave. Bats now have greater hitting power as well so a wild slash can still bring valuable runs off an outside edge.
For a team that finds itself involved in a tight run chase, there can surely be nothing more daunting than thinking what will happen if the number 11 comes into bat needing 20 or so to win.
One can only imagine how quickly Mirboo North number 11 Liam Smit's heart was beating as he was padded up during the 2013/14 Central Gippsland Cricket Association grand final. The Tigers were only one wicket away from Smit needing to walk out to the middle.
That game saw quite possibly the greatest innings by a tailender in Gippsland cricket history.
When Dale Banks came in at number 10 the score was 8/200 and Mirboo North needed a further 91 runs to win the premiership. It was light years away. They were gone for all money.
Banks went on to make 26 not out in an unbeaten stand with Rob Phoenix, who ended on 125, as the Tigers scampered the winning run in the 100th and final over of the day.
For all the hundreds of wickets Banks has taken, it is perhaps that innings for which he is best remembered.
Like Banks, every tailender needs their moment in the sun. A nerve-killing win, a never-ending partnership that drives the opposition mad, or a proper score and a chance to experience what it feels like to raise the bat.
Number 11's deserve it for having to suffer everything that goes with batting at number 11. From looking over at the sidelines to see the curator has already got the hose in hand, to getting sledged for playing and missing a ball they literally cannot see, to subconsciously knowing their presence in the middle is not being appreciated by anyone – even the umpires.
When he retired, Australia's perennial number 11 Glenn McGrath was asked by Ricky Ponting what he thought his greatest achievement in test cricket was.
McGrath, with over 500 test wickets to his name and a place as one of the greatest bowlers the game has ever seen simply replied "61" – his highest test match score.
Those who have never batted at number 11 will never truly know what it is like.
It takes a certain type of person to bat last.