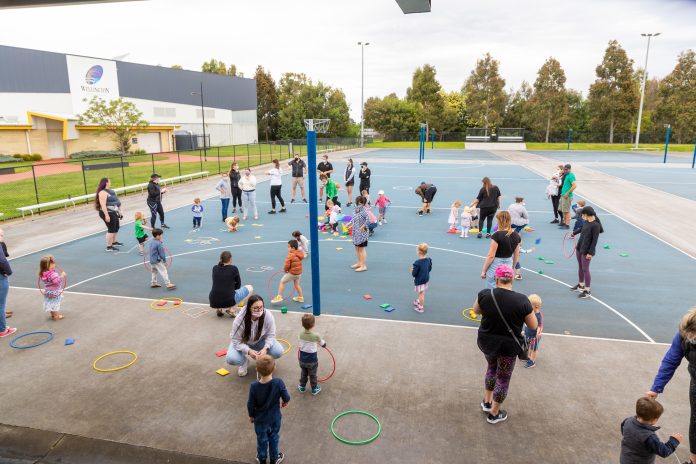 Alyssa Fritzlaff
THREE local organisations are among those receiving funding for innovative community projects.
The funding, allocated as part of the Latrobe Community Connection Grants Program from the Department of Families, Fairness and Housing (DFFH), intends to increase community engagement across the region in education, employment, sport and recreation, and social and community activities by reducing economic barriers.
Youth Support and Advocacy Service Gippsland (YSAS), Gippsland Regional Sports Assembly (GippSport) and the Gippsland Trades and Labour Council (GTLC) have been granted funding for their projects.
The organisations were invited to apply for the funding earlier in the year, and could apply for amounts from $20,000 to $150,000.
Each organisation is focusing the funding on their own unique projects, each zoning in on entirely different areas of community engagement.
Youth service YSAS is gearing up for a music program, which will see young people mentored by experienced musicians as a way of learning new skills and developing connections.
The musicians will be primarily selected from local talent, however some will be sourced from elsewhere in Victoria.
Music is something very close to YSAS Gippsland Manager Mark Tanti's heart. He fondly recalls getting his first guitar as a child, and hopes the program will offer young people the same opportunity.
"I keep thinking about the people who really want to do music performance or learn an instrument, and they can't afford to," he said
The program will enable young people to learn music performance and will provide the coaching and support to help them succeed.
It will also allow those participating the opportunity to show off their new skills through a number of performances during the year.
"We know that these skills gained in this area lead to other areas as well," Mr Tanti said.
YSAS will be using the funding for things such as buying instruments and paying the musicians.
"We are trying to make the money stretch as far as we can, to get some instruments – second hand instruments from the community – we've also got to pay the musicians. We are going to get some people from Melbourne, but most of the people will be from Gippsland," Mr Tanti said.
Mr Tanti explained that the program will get the community involved.
"We are hoping at the end of it we will be able to get these kids connected to doing live performances, and going to venues where there is jam nights and those types of things."
"There's power in community," he added.
GTLC is using the funding for their Melting Pot Project, which aims to reach out and connect those in the multicultural space to each other and to the hospitality industry.
"There are big gaps in the multicultural space," Kacie Duncan, GTLC Community Projects Officer said.
"Unemployment, and even in this day and age you see a lot of people get turned away from a job because they don't speak English… or they might go in dress differently, because that's part of their culture – so it's about breaking down those barriers."
Latrobe Community Health Services Multicultural Strategy Engagement Coordinator,
Farhat Firdous has been working with Ms Duncan and GLTC Secretary Steve Dodd on the project.
"Farhat came to me with this big idea, that maybe we could create a pop-up restaurant that these people would be able to come to and work at, share their food with the community… but also create a business model essentially that could continue on employment for these people," Ms Duncan explained.
The group started the project and it quickly grew much larger and quicker than they expected, which prompted them to apply for the new funding and extend their reach even further.
"We started the project and then it got quite large, the number of participants, and then we went to Steve and said, 'hey Steve, we might need another person for this position'… that's what we applied the grant for, was to get somebody else in who would be able to manage that project."
Ms Firdous said the project is intended to not only share the food of different cultures, but help people develop connections and learn new skills – particularly ones that they could use down the track to start their own business.
"It capitalises on what we have, culturally diverse people who are willing to share their food but also willing to engage in meaningful employment and might need a hand to understand what it takes to work in the hospitality sector, and through that develop connections," she said.
The project not only helps to develop social connection, but is also good for participants mental health and wellbeing Mr Dodd said.
"The other part is the mental health component… about staying healthy and learning about physical activity," he reiterated.
GippSport's funding is going toward their already established program KIDDO Gippsland, which works toward improving children's physical literacy through building skills, knowledge and behaviours for active lives.
"It is born from all of the evidence and data that in Latrobe Valley specifically, that children are declining on their physical, emotional and social levels of competence," Project Coordinator for KIDDO at GippSport Rachel Ronaldson explained.
"We were funded by the Latrobe Health Assembly to start this program for two to five year old Children and their families… and this funding is going to allow us to bring that funding to Baw Baw residents and continue with Latrobe Valley."
The program runs sessions for children to increase their physical literacy, both inside and outside of early learning centres.
"We have two streams, we run it in the community in tiny little isolated towns, and try and
break down barriers that way… and the other stream is through Early Learning Centres and early childhood care facilities."
"We just want to get them in a situation where they are never going to turn up to Primary School or turn up to Early Learning and already feel under prepared. So we use game based recreation to try and make it super fun for them to move their bodies," Ms Ronaldson said.
DFFH reports that the funding will be fully expended by September 30 2022.