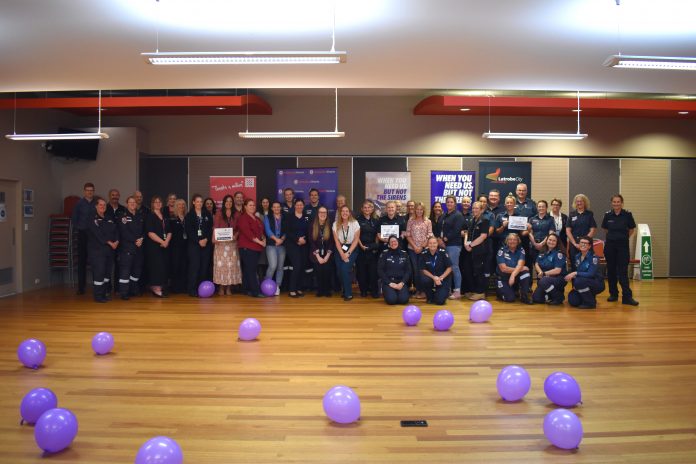 Alyssa Fritzlaff
LOCAL Emergency Services personnel celebrated International Women's Day (IWD) on Tuesday, March 8.
Members from Ambulance Victoria, Victoria Police, Fire Rescue Victoria, Country Fire Authority and the State Emergency Service (SES) organised the event in collaboration with Latrobe City Council.
Attendees enjoyed a morning tea together at Morwell Bowling Club and listened to three guest speakers, Latrobe City Councillor Tracie Lund, Victoria Police's Paul Huggett, and Ambulance Victoria's Jennifer Hume.
The theme of this year's International Women's Day was #BreakTheBias, encouraging people to work towards a world free of bias, stereotypes, inequality and discrimination.
While working in male dominated professions, women in emergency services have fought for equality for many years.
The event recognised and celebrated the contributions of women working in Gippsland's emergency services.
Cr Lund attended the event and addressed the importance of observing IWD with an inspiring speech.
"International Women's Day has become a time to reflect on progress, to call for change, and to celebrate the courage and determination of women who have changed history," she said.
"Today's event is also an opportunity to unite, connect, work together and create meaningful change."
Cr Lund highlighted the theme of IWD 2022, #BreakTheBias.
"Bias makes it difficult for women to move ahead, together we can support this theme by calling out gender bias, discrimination and stereotyping when we see it," she said.
"Every action, no matter how small, contributes to a collective impact."
Inspector Paul Huggett, of Victoria Police, took a moment to thank the many women who are doing important work in the community, reading out the names of some of the women doing wonderful work in the region.
He reflected on the growth of his organisation during this career, and said Victoria Police are "evolving as an organisation and our inclusiveness is growing."
Ovarian Cancer survivor Jennifer Hume provided insight into her journey with the disease.
She also encouraged people to support Ovarian Cancer Australia this IWD, to promote more research and support for those touched by the illness.
"It's really a time to make progress in this space, and the need to actually support women with this disease and fund and find cures that can save lives," she said
Ms Hume warned attendees about Ovarian Cancer, and its signs and symptoms. Many of which are things that some people just ignore, this was as case for Ms Hume.
"It's really hard to detect Ovarian Cancer," she said.
"The delay in my diagnosis was 'I'm busy', 'I've got a lot on my plate'… as women we are juggling lots of things. We've got lots of responsibilities, we're operating on low grade, or sometimes even high grade stress."
She said women often make deals with themselves when they feel unwell, telling themselves they will just go to sleep earlier, take more multivitamins, or eat better.
"That was me, I thought those things," she said.
After an 11 centimetre tumour was found on her right ovary, Ms Hume had to undergo chemotherapy and surgeries to remove the tumour.
She encouraged listeners to know their family history, know their own body, listen to their body and make sure Ovarian cancer is on their radar.
Several men attended the event in support of their female co-workers and the fight for equality.
Cameron Rothnie, AV Operations Community Engagement Liaison Coordinator for Gippsland, had a hand in organising the event.
He said there are lots of women in leadership roles within Ambulance Victoria, stating that their "influence cannot be underestimated."
Mr Rothnie said the event is important to show that these women are appreciated.
One of the driving forces behind the event was Acting Senior Sergeant Maha Sukkar.
Sgt Sukkar had a significant role in setting up the event, and is passionate about International Women's Day. After the conclusion of the speeches, she thank the many people who made it possible.
Sgt Sukkar praised Morwell Police Station, and said she has felt "very welcome" as a multicultural woman in her short time working there.
Many attendees stuck around after speeches and socialised, forming connections with one another.