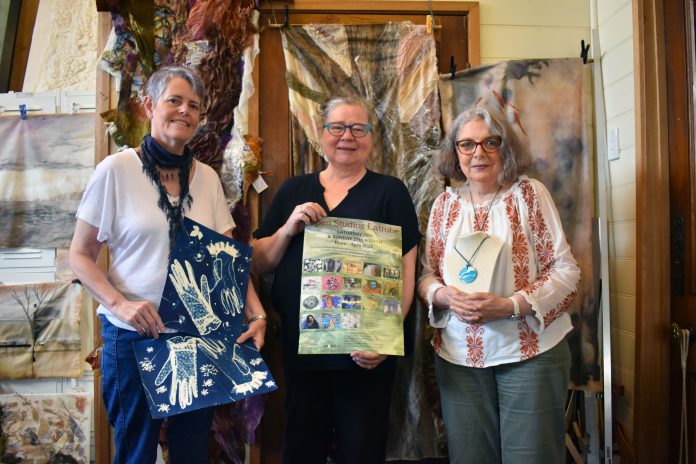 Alyssa Fritzlaff
OPEN Studios Latrobe will showcase local artists this month.
On Saturday, March 26 and Sunday, March 27 2022, local artists and galleries will open their doors and show off their extensive talent.
Tickets are $5 per person (children are free), and allow the ticket holder to gain access to every participating studio from 10am until 4pm over the weekend.
Open Studios Latrobe is an initiative by MOaRTZ Inc. and is funded by Latrobe City Council.
Organiser and MOaRTZ president Sharon Anderson said she is excited for Open Studios to
return after a brief pandemic initiated hiatus.
"We had COVID off and we are back again, thankfully," she said.
Ms Anderson said the event is beneficial for both local artists and community members.
"It gives the visitors a good idea of what goes on in their local area, as far as the arts are concerned," she said.
"It's a great networking opportunity, otherwise you can feel quite isolated."
Ms Anderson works in cyanotypes, screenprints and acrylic painting, she will be located at her studio in Moe during the event.
Participating studios are located in Moe, Tanjil South, Morwell, Yinnar and Boolarra.
MOaRTZ treasurer Cheryl Cook has also played a big part in setting up this year's Open Studios, and will be featured at her studio in Tanjil South.
Ms Cook started her art pathway in felt making with alpaca, now she is exploring with different mediums. Her art explores engagement with place and Gippsland's landscape.
"I use felt, fabric, I'm currently experimenting with natural inks," she said.
"I've come to the conclusion that it doesn't matter what medium I use, it's whatever gets me the result I want."
Ms Cook feels that Open Studios event was very beneficial for the Latrobe art scene.
"I think it really highlights that the Latrobe Valley is not just industrial, there is a strong art
scene in the area," she said.
"It shows a great camaraderie between the artists, we are not really in competition with each other – it's more like a coming together."
Ms Cook's work will be on display at her own studio in Tanjil South.
Another artist looking forward to the big weekend is Jill Loader.
Ms Loader works in textiles and polymer clay, she will also appear at Ms Cook's studio in Tanjil South. Her work includes shawls, rope baskets, necklaces, and buttons.
She feels the event is an opportunity for local artists come together.
"It does bring you closer… it is nice being part of something instead of just being by ourselves."