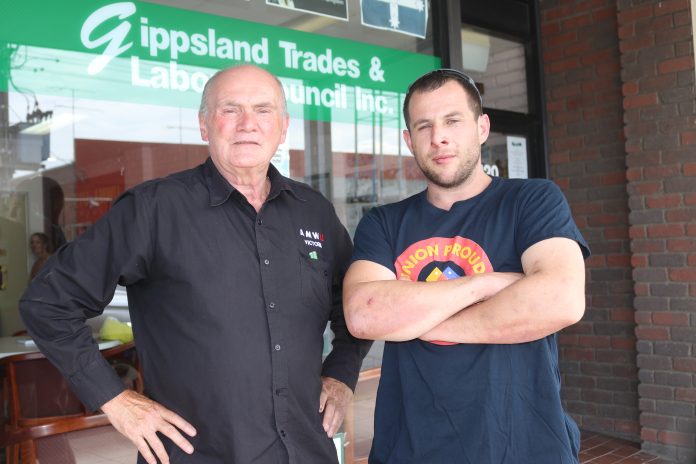 Michelle Slater
A service set up to help former Hazelwood workers find new jobs when the power station closed in 2017 has wound to a close.
The Hazelwood Worker Transition Service came to an end in December after it had been
administered by the Gippsland Trades and Labour Council (GTLC) in partnership with the state government.
According to GTLC figures, 80 per cent of the 750 of workers from Hazelwood who accessed the service had moved into some sort of new employment- either permanent or contract.
It retrained 1484 Hazelwood permanent, casual and contract workers and issued 2814 accredited qualifications.
The service was then expanded for redundant workers in other industries including Carter Holt Harvey, ASH Heyfield timber mill, Brancourts cheese factory, ViPlus dairy and Nilsen (Electrical).
"In real terms, the stats add up. We've always prided ourselves when we work with people from this region. It's always been about transitioning people to the next job," GTLC secretary Steve Dodd said.
"We have a handle on where the jobs are in the region and this is how we structure our training. Our training is nationally accredited so they are portable to the next employer.
"Unfortunately, employers in the region had provided training but not a lot was accredited, so once they walked out the gate these skills were not recognised by other employers."
Retraining included tickets in construction and rail inductions, confined spaces, heights, asbestos removal, forklifts and heavy rigid truck licences.
The GTLC is now focusing on training culturally and linguistically diverse locals and young people to help find them work.
Mr Dodd said the GTLC delivered mental health and social connections through peer-to-peer support.
This was particularly important for those who had begun their apprenticeships with the SEC and worked at Hazelwood until its sudden closure.
"We saw Hazelwood workers from day one. That company had no concern for the workers in the region, we were handed a sh** sandwich and had to deal with it," Mr Dodd said.
"There is no bigger pleasure for us than to see someone get a job and move on with their life. We will continue to have an open door policy here at the GTLC for workers and families."
Former Hazelwood casual Tom Murphy worked in mine maintenance, including through the 2014 mine fire, but was unemployed when the station closed.
He said the transition service helped train him to pick up work on various outages and driving trucks.
"The closure affected me as there was not enough work around, as when it closed it made it more competitive to get a job. But it's been brighter recently," Mr Murphy said.
"For a long time my mental health was not really good, but coming here helped keep my mind focussed on getting work. I could come in for a coffee and they let me know what was coming up."
Mr Dodd said the real challenge for the region was to establish new industries to mitigate the effects of further on-coming coal closures.
But he said this needed bi-partisan support from all sides of governments, employers and unions.
"I wish people would stop talking about it and get on with it, all we see is people talk and write reports on it. There needs to be industry development and we need to be in on it," Mr Dodd said.