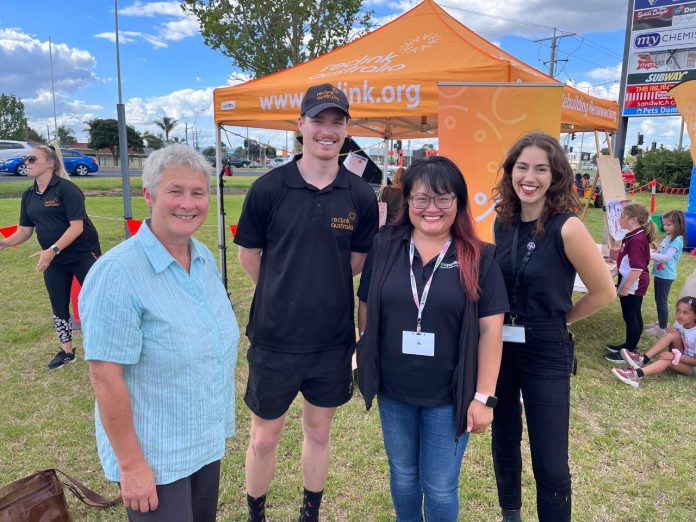 MORWELL'S Big Sports Day has been described as a major success by its organisers.
The event, organised by a range of Latrobe Valley support services and Latrobe City Council, and hosted by Mid Valley Shopping Centre on March 10, had more than 250 people in attendance.
The aim of the Big Sports Day was to help young people and their families connect with local support services.
GippSport's Den Lim was the driving force behind the big day.
"The event was such a great success with 22 community organisations coming together to provide a wide range of fun activities," she said.
"It was so amazing to see how passionate the service providers are to support youth and families in Gippsland.
"Special thanks in particular go to Berry Street and YSAS who provided financial support for inclusions such as the popular jumping castle and live music."
In addition to the jumping castle, there were games of soccer, dodgeball, badge making and more. This encouraged people to get involved with a bit of fun and learn about what's out there to support them at the same time.
Ms Lim also gave a special thanks to Mid Valley Shopping Centre and Morwell Neighbourhood Watch.
"Thanks to Mid Valley Shopping Centre and the food outlets for providing the space, donating food and raffle prizes, Coates Hire for supplying the generator, Neighbourhood Watch for cooking up the sausages and everyone else who made the event possible," she said.
YSAS Community Programs manager Mark Tanti was another organiser and he praised Ms Lim for her dedication to the event.
"I must say that Den did a great job in organising this community event. Even at the last minute, she was able to organise a Jumping Castle and an entertainer for the kids," he said.
"Den did this with style and grace. She is an amazing event organiser."
Ms Lim said the team behind the Big Sports Day are looking to deliver these events more often.
"The event partners are so happy with the turn out and success of the event that they want to deliver more of these events at least annually but ideally twice a year or quarterly if financial support is provided," she said.
"We are calling out to businesses who might be interested in partnering for future events."
Latrobe City Councillor Sharon Gibson is a big supporter of the Big Sports Day and attended the event. She said it was nice to see families and children out enjoying themselves.
"The other part that was heartening to see, was so many actually enquiring about all the different services that are available to help our community's children," Cr Gibson said.
"So hopefully this will mean that potentially it will save lives.
"A huge thank you to Mark and all the team that enabled as all to come together as a community for the first time in a long time, which is why there were so many smiling faces."
Mid Valley Shopping Centre management said they were "proud to sponsor the GippSport Big Sports Day that took place on our lawns, attracting many families and kids of all ages to this free community event."