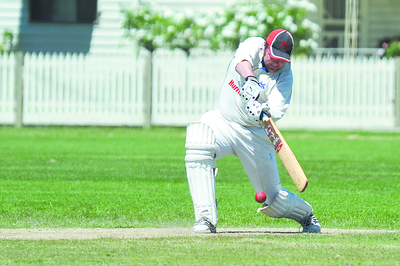 FOUR teams are still in the mix to capture the final four positions in Traralgon and District Cricket League's top four.
The final day of home and away cricket for the season will be played out in one of the most thrilling climaxes in league history.
It will not be known who will make the finals until stumps are drawn late Saturday afternoon.
Glengarry v Centrals
IN the match of the round Glengarry faces a challenge, chasing 270 runs for a spot in the finals.
Centrals, on the back of a Nathan Freitag century (144), is in the box seat to challenge for one of the remaining spots.
Jarrod Allan and Marc Fenech will have to bowl well to restrict the Marks brothers, but with a huge total in front of them Glengarry will find the going to tough.
Churchill v Toongabbie
Churchill resumes at 2/46 knowing a further 123 runs for victory will ensure it keeps third spot on the ladder. Toongabbie will be firing up to restrict the Cobras in their last appearance for the year as the reigning premiers will not play finals.
John Keighran's wickets will be vital and if he can bat for 20 overs or more Churchill will win.
Rovers v Ex-Students
EX-STUDENTS is in the box seat with a 292 runs to defend. All eyes will be on whether the Sharks can claim a further 18 wickets and win outright and assure a spot in the four.
A win in first innings will only put them in the top four if Churchill or Glengarry lose. Rovers will be bent on occupying the crease and on a flat Duncan Cameron Park wicket.
The Sharks will need Michael Warne and Andy Mathews to fire up.
Gormandale v Raiders
Gormandale resumes at 6/119 needing a further 20 to win. The Tigers cannot lose top spot on the ladder and interest in this game will be what time stumps will be drawn. Raiders will be out to finish on a high and cause the upset.
Imperials v Traralgon West
In the final game, Imperals scored a season high 294 against the winless Traralgon West.
On a great pitch Traralgon West will try its best, but will not be able to record its first win of the year.