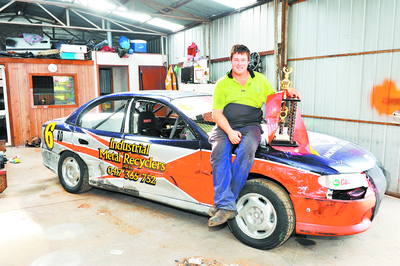 Walking into Shane Stewart's garage in Morwell, it is clear speedway is the family passion.
Surrounding the two stored cars there are tyres, car pieces, oil, photos of cars and even plastic cars for children.
Over the long weekend, with the support of his family the 26 year-old finished second in the Standard Saloon Victorian State Title at the Wangaratta Speedway.
"I'm really happy with the second place," he said.
"It's my best result yet, so now I know I'm up there I'll be looking to go one better next year."
Stewart began racing at the Rosedale Speedway as a 12 year-old in an LJ Torana.
"My whole family was involved, so it just kind of happened that I started too," he said.
"We just love it."
Given that a standard saloon speedway car is a standard production vehicle stripped bare and fitted with a roll cage, The Express was keen to find out how a 12 year-old could control such a thing.
"Now the starting age has been reduced to 10," Stewart said.
"It's pretty easy, you just move the seat forward and make sure they can see over the dash.
"My son Jack is three now and he'll probably start racing at that age (10), maybe even get in a car a bit earlier than that."
Stewart and his brothers Chris and Daniel compete in speedway events most weekends of the season, often travelling hundreds of kilometres to indulge in their passion.
This means they buy a lot of petrol – for the speedway vehicles as well as the road cars they use to get to races.
When asked how rising petrol prices were affecting participation in the sport, Stewart and his older brother Chris agreed people still seemed to find the money to do it.
"Surprisingly I don't think it's affected much it at all," Stewart said.
Chris however was more circumspect about the cost of fuel.
"The cost is certainly getting bigger – petrol is a killer," Chris said.
"Shane's car is a five-litre VT Commodore and that probably uses about 50-litres in a night.
"But then there's the cost of getting there too, so it all adds up."