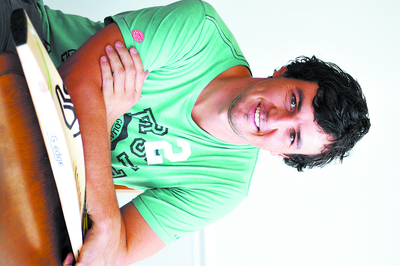 After 11 years of playing cricket at the top, fast-bowler Brad Knowles has been forced to retirement from first-class cricket following a knee injury.
Knowles, who played for Victoria and Western Australia, was frustrated his career had been cut short but said his family put it in perspective.
"The injuries are pretty frustrating, but having a supportive wife and three kids helps," he said.
"I always tried to work outside of cricket too, which also helped take my mind off it at times."
Knowles debuted for Victoria as a 19 year-old in 2001, but was dropped from the 2007-08 squad following an injury-ridden season the year before.
During that year he played for Fitzroy/Doncaster, where he was spotted by the Western Australian Cricket Association.
Knowles was then contracted to the WACA for the 2009-10 season, which he said was "one of my best".
It was at the end of that season his knee became unmanageable.
Surgeons believed the injury was the result of an undetected anterior cruciate ligament tear which "probably occurred" around five years before it was discovered.
Knowles underwent an unusual treatment plan, where a sample of his knee cartilage was grown in a petrie dish for eight months, then put back into his knee.
"This type of treatment is more common in older people, so they can avoid things like knee replacements," he said.
"If I'd managed to return to first class cricket, I'd have been the first professional sports person to come back from the procedure."
Knowles also believed had the current rotating fast-bowler system been in place five or six years ago, his fate may have been different.
"I think the rotating system is fantastic – in hindsight if they'd been doing that earlier I might still be playing," he said.
Knowles said he was grateful for the opportunity to pursue a first class career, and over the years it had taught him skills he could use in other areas of his life.
"Cricket has taken me to some amazing places, like India, Sri Lanka, England and even Austria and Holland," he said.
"Also being in a team environment for so long, it teaches you that people have different personalities and how to deal with that, as well as a strong work ethic."
As a junior, Knowles played for the Raiders in the Traralgon and District Cricket Association in a system he believed gave him an excellent grounding.
"Having the opportunity to play senior cricket from a young age, so playing against men, was really helpful," he said.
"The region has produced some excellent cricketers recently in Peter Siddle and Cameron White, so I think there are some good structures down here."
This December it will have been two years since the cartilage was replaced, and Knowles should be ready for the 2012-13 local cricket season.
Coming back to the Valley, Knowles said he wanted to share his knowledge and hoped to captain/coach a team in the area next season.
"Now I'm looking to pass on what I've learned from playing at that level in batting and bowling," he said.
"Ideally I'd like to captain/coach a team next season – hopefully I'll be able to make an announcement about that in the next few weeks."