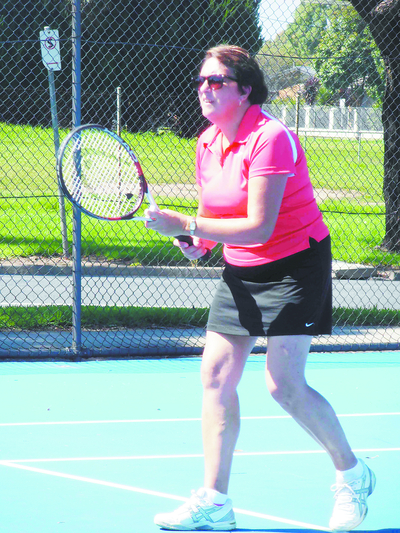 After several weeks of cool and wet conditions, the sudden burst of warm weather was a test for some players.
Although team Lotto is on top of the ladder, other teams are beginning to find their form.
With only two weeks until the Easter break, all teams will want to secure their positions on the ladder.
Team Lacoste won its second match in two weeks with a good win over Reebok.
Lacoste showed its fitness in the hot conditions, to win the last two sets and take the match four sets to two.
A determined Teresa Uhe held her three sets for Lacoste.
New Balance moved into second place on the ladder with a decisive win over Asics.
Trish Henry and Marlene Lamont for New Balance were very consistent with each winning three sets.
Final scores were New Balance five sets to Asics one.
Even though Sfida lost three tie breakers to Nike in the early stages of the match, the remaining sets were clear wins to Sfida.
Both teams were even across the day, but it was great to see Sfida's Debbie Albanese come back strongly in her last set after going down in two of the tie breakers.
Final scores were three sets all Sfida 45 games to Nike 36 games.
Dunlop appeared to succumb to the hot conditions with Lotto having a good win.
Lauren Stevenson had an outstanding day holding her three sets comfortably.
Final scores were Lotto four sets 41 games to Dunlop two sets 28 games.
A close match between Yonnex and Adidas saw Yonnex just hold on to take the points.
Yonnex was victorious with a three sets all match.
Two games separated them from Adidas at the end of the day.