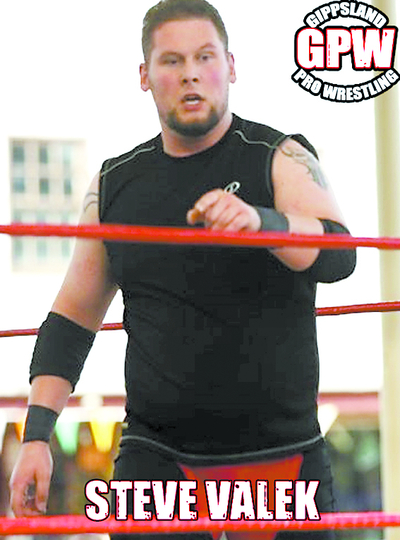 Professional wrestling is back at the Moe Hotel.
Hotel spokesperson Helen Caines insisted despite the stories and the appearance, the wrestlers were "lovely people".
"They're the nicest blokes I have ever met," she said.
"They're well mannered, just trying to get started."
Twenty-two year-old Joel 'Smash Hit' Bateman confirmed the tough images were just bravado, and said he has had a lot of fun wrestling in Moe.
"We've been doing this at Moe since December," he said.
"I've been involved regularly for so long, and speaking to the other guys they reckon the Moe crowds are just awesome.
"Each time we've appeared we've had around 100 people and have even had to turn some away."
Gippsland Pro Wrestling is aiming to secure a monthly fight at the venue.
According to Bateman, the stories were built up month to month, with the wrestlers 'fighting' over title belts, money, personal hatred and grudge matches as they do on the American professional wrestling scene.
Bateman has been wrestling for 10 years and said he fell in love with the sport "as soon as I started as an 11 year-old".
"I saw an ad in the local paper for the training school," he said.
"From that first day I haven't looked back.
"I enjoy all of it – the theatrics, the adrenalin rush and the physical side of things."
He recalled with fondness competing in his first match as a 13 year old at a factory in Dandenong, but said that such opportunities do not exist for children anymore.
As a wrestler, Bateman travels "on the cheap" around the country twice a month.
"I do travel more than most," he said.
"But through wrestling I've done things I never thought I'd do in my wildest dreams.
"I've been all over Australia and met some of the most incredible people."
Bateman said earlier in the month Gippsland Pro Wrestling had a match in Sale, and Jacob French, the Stormtrooper walking from Perth to Sydney to raise money for the Starlight Foundation, happened to come in and add to the spectacle of the evening.
"We had a great time with him, trying out his moves," Bateman said.
This Saturday night, the theatrics will be captured on film as Channel 31 films for its wrestling series, "The Gorilla Position".
The Moe series is scheduled to on the channel around June.
"Wrestling is great because it's like with any live entertainment, you can forget about your life for two-and-a-half hours and just enjoy the show," Bateman said.
"The shows are also very family oriented which is great."
For more information phone the Moe Hotel on 5127 1009.