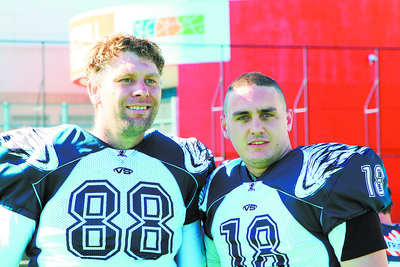 Two consecutive losses have not dampened the spirits of local gridiron players Don Veale and Adrian Hector.
The Gippsland Gladiator teammates were selected for the Victorian gridiron team in December last year, and recently played their first two matches.
Fellow Gladiator Tim Nuguid was also selected, but sustained an injury preventing him from starting with the team two weeks ago.
Being named in the team was a particularly special achievement for Veale, Hector and Nuguid, as they had only been playing gridiron for one season prior to selection.
"On the 17 March we played Western Australia," Veale said.
"In the end we lost 16-0 but it was a good hitout.
"The main problem was that our offence really struggled to move the ball."
To put the score in perspective, 16-0 equates to two touchdowns, indicating the loss was not a complete drubbing.
According to Veale, he and Hector "did their jobs" as tight ends.
A tight end is a utility role which starts out next to the linesman, so they can block the linesman or run out to receive the ball.
"We didn't get a lot of game time; I had slightly more than Adrian," Veale said.
Last Saturday Veale and Hector traveled to Sydney with the team to play New South Wales.
Unfortunately the Victorians endured another loss, but Veale was confident the team was improving.
"New South Wales is the strongest side in the competition," he said.
"Last year they beat Western Australia in the grand final, so we've played the two strongest teams.
"On the 14 April we go to Brisbane to play Queensland, so it will be interesting to see how we go against them."
Veale said one of the major differences between the national and state competitions was the size of the players.
"Apart from the intensity, (playing for Victoria) all your opponents are bigger," he said.
"When we play another Victorian team you might have one really big guy, but in this competition everyone is huge."
At this stage, Veale and Hector said they were excited to be involved with the sport at national level.
Veale said he was also using the opportunity to share what he was learning with the Gladiators.
"With the state team we have different coaches who have different ways of doing things," he said.
"It's great because we're learning lots about the game and we can bring that new knowledge back and share it with our players here."
The Gladiators' seasons will begin on Saturday, 5 May.
For more information visit www.gippslandgladiators.com.au