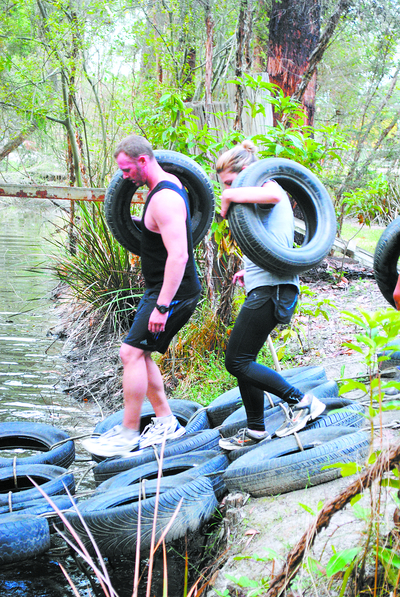 With less than one week to go until one of the most gruelling endurance events on this year's sporting calendar, Bonnie Grylls and her team are "pumped and ready to go".
This Saturday, Grylls and nine teammates will compete in Tough Mudder, a 20-kilometre multi-obstacle assault course based on the training regime of the British Special Forces.
When The Express spoke to Grylls in early February, she said her team was excited about the event, but did not know what to expect.
As the intensity of the training sessions increased over recent weeks, she said the team was even more enthused and had a much better understanding of what lies ahead of them.
"We can put it more in perspective," she said.
"We can plan for it better now since we've learned more about the course, and we're hoping to do it in three hours."
To prepare for the challenges they will face, which include running through fire and jumping from a five-metre plank into icy water, Grylls has been holding weekly training sessions for her team at the Summit in Trafalgar.
The Summit is an outdoor adventure camp which has allowed the team to train with objects similar to what they will encounter during the race, such as tyres, logs and ropes.
Grylls said over the past six weeks, everyone in the team had made major improvements in fitness and mental strength.
"We've all improved our fitness and most of us have lost a few kilos which is fantastic," she said.
"A lot of us were also overcoming a fear of heights which we've had to get over because of the 5m drop into the water.
"A few others were also scared of the tunnels, but all of these things we've been working on as a team to help each other deal with these fears."
Grylls' team members have been so inspired by their Tough Mudder journey that most are already looking towards their next challenge, the X-Marathon in December.
"Some of us are keen to do the X-Marathon in December which is kayaking, mountain biking and trekking in the alpine country," she said.
"People have realised that you can do more than just go to a gym and do a class.
"I'm included in that, I've learned so much about myself so it's been incredible in that respect."
Grylls said the team will be sad to see the event end because they have had such fun training for it, and have forged friendships that will last well beyond Tough Mudder.
As they run past the finish line on Saturday, Grylls said the team would be "embracing the moment and making sure they enjoy it".