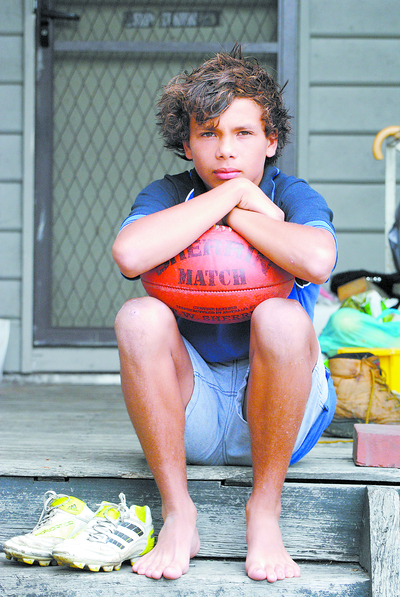 Newborough's Anthony Young has been selected to represent Victoria/Tasmania at the under 15 Kickstart Championships on the Gold Coast.
The Championships are part of a development program for Indigenous youth run by the Australian Football League.
At the end of last year, Anthony's club, Newborough, recommended him for the Victorian Kickstart Future Leaders Camp which was held at Halls Gap in March.
Representatives for the Victoria/Tasmania team were selected from the camp based on the leadership and playing skills they displayed over the four days.
"I had heaps of fun at Halls Gap, there were other Aboriginal kids from all over Victoria and it was fun meeting them all," Anthony said.
"First off we got to know each other and then we learned about other communities and the lost generation.
"I really learned a lot."
The group was also addressed by the Richmond Football Club's Aboriginal liaison officer, as well as Melbourne footballer Aaron Davey.
"Aaron told us that to be an AFL footballer you have to make good decisions in life," Anthony said.
"He said you have to be disciplined, and you can't have too many parties; it's all about making those decisions."
On Monday 9 April, the 25 selected players will travel to the Gold Coast to play against representative sides from the other states and territories.
Anthony, an Essendon supporter who aspires to playing in the AFL, is excited about the championships.
"I'm really excited about it," Anthony said.
"We'll be playing a lot of football, five matches in five days, and we'll be doing other activities too."
From the championships, a team will be selected to play demonstration matches in Fiji.
"That would be really cool to do that," he said.
But for now, Anthony is focusing on having fun with his football, meeting new people and giving this opportunity his "best shot".