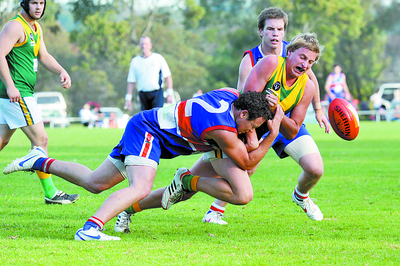 This Saturday Yallourn/Yallourn North will travel to Hill End in what should be a competitive game.
Both sides have shown early signs of improvement.
The Bombers will be looking to make it three from three after thumping Thorpdale last week.
Hill End performed well when it took on Newborough and will be sure to come out hard.
Coach Josh Tymenson said he was happy his side worked the football well and his players' skills were good in the high paced game.
Yallourn/Yallourn North has also performed well to date and Tymenson said he hoped to overcome them by working to his side's strengths.
"We will be playing our brand of footy and keep pressuring the opposition when they have the ball and tackling hard," he said.
Tymenson said his side will be working to improve its performance at the stoppages ahead of this Saturday's game.
Yinnar v Trafalgar
Yinnar will play Trafalgar at home and are up against a side fresh from a victory over Yarragon.
Blood's coach Chris Kyriacou said that he wanted to get the season off to a good start and they have done just that.
A win this weekend would further prove they are still the team to beat this year.
Yinnar coach Sam McCulloch said he expected the Bloods to be the favourites in the match and is looking forward to the challenge.
"They've been the yardstick for probably three or four years and they're going to be another tough ask for us," McCulloch said.
"We can only go out there and give it our best shot."
Boolarra v Mirboo North
Boolarra faces Mirboo North at home coming off two losses.
Demons' coach Tony Giardina said it will be a very big game for his team.
Giardina said he does not know how his players will respond after the two losses and that while he has been reminding his players to be first to the football, he has been disappointed in his side's inability to consistently do that.
Mirboo North enter the game in high spirits after a win against Morwell East last week.
Morwell East v Newborough
Morwell East will take on Newborough at home, and Newborough's physically imposing side is sure to be tough for Morwell East.
Newborough will want to make its stamp on the competition early by making it three wins from three matches.
Thorpdale v Yarragon
Yarragon and Thorpdale will clash at Thorpdale this weekend and with both teams coming off heavy losses, they will be desperate for a win.
Yarragon has been able to make decent scores in its losses, while Thorpdale has struggled, scoring a total of just 29 points from its first two games.
Though last week's scoreboard showed a very dominant YYN, Thorpdale was able to apply pressure and was hard at the ball.
Blues coach Brett Sherriff is still hopeful things can turn around for his team, if they keep their heads up.