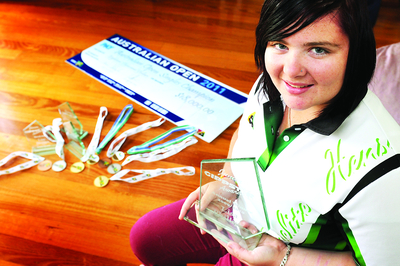 For more than 50 years the Gippstar Sports Award has been an icon for Gippsland athletes.
Over the years, the region has produced athletes who have achieved at elite levels, and the award recognises the efforts of these people.
Initially started by Caltex in the 1960s, administration of the award was taken over by the Gippsland Sports Academy in 2007.
Chief executive officer of the academy, Judi Buhagiar, said people are often "humbled" simply by being nominated.
"The award has so much history attached to it, people like the late Lionel Rose, Lisa Alexander and Scott Pendlebury are all past winners," Buhagiar said.
"The great thing is that it's open to people in all sports – there are even categories for officials and administrators now.
"Anyone who is doing great things in sport in Gippsland is eligible."
Newborough lawn bowling star Lisa Phillips won the award in 2011, after being crowned Australian Open lawn bowling champion earlier in the year.
"It was great to win, there are so many talented athletes in the area like swimmers and basketballers," Phillips said.
"I think it was also good for my sport, I just play bowls and it's great to see that someone in a sport like that can still achieve so much."
At present, winners do not receive any financial support but according to Phillips, that did not matter.
"It was just an honour to win, it's not always about the money and it's nice to get some recognition in the area."
Buhagiar said nominations had "dropped off" recently, and the administrators of the award are keen to get people nominating again.
"We want people to know that anyone in sport can be nominated, even administrators, teams, coaches, anyone," she said.
"It's also great in that for all nominees we contact the relevant state sporting body and tell them that this person has won the award, so it can help bring them to the attention of clubs or organisations."
For more information about the awards phone Judi Buhagiar at the Gippsland Sports Academy on 5127 0163 or visit
www.sportgippsland.org.au