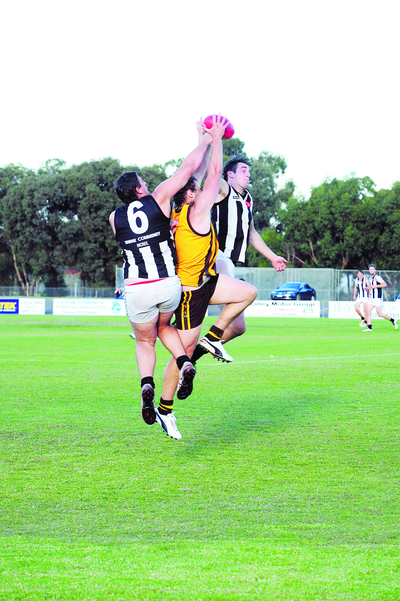 Yinnar will travel to Mirboo North on the back of a disappointing, yet encouraging loss to Trafalgar.
Just one win separates the sides on the ladder, and both teams have been improving week to week.
Both sides have shown strength and skill against Boolarra, which indicates this could be a close and exciting match.
Tigers' coach Troy Hamilton said there is still some uncertainty surrounding injuries to his players, but some may miss this weekend including former coach Matt Holland, which could hurt the side.
Hamilton believed this weekend would be a tough game against the improved Yinnar and predicted a close game.
Yallourn/Yallourn North v Morwell East
Morwell East and Yallourn/Yallourn North are set to clash this weekend after coming off losses.
Morwell East's side includes smaller forwards that have shown they have a game plan of short, straight kicking which they executed well last week against Newborough in the first half.
YYN coach Tony Price was disappointed with his side's loss to Hill End last week and said he would be working with the players to motivate them to run hard and get the ball.
"I guarantee you'll see a different side from Yallourn/Yallourn North," he said.
"We will be a lot more desperate than we were (on Saturday)."
Newborough v Boolarra
Boolarra's bad start to the season may continue this week as they take on Newborough.
An unusual "curse" continues to haunt the side – Boolarra has won four senior premierships, and each time has begun the following season with at least two straight losses.
The Demons will have to shake off whatever losing mentality might be keeping them down and fight hard against a side which continues to earn its 'flag-favourite' tag.
Newborough is impressive in its clearances and Boolarra's ruckmen will have to fight to win the stoppages.
Yarragon v Hill End
Yarragon is the other team yet to win a game and it takes on Hill End this weekend.
Hill End coach Josh Tymenson does not want his team to get a false sense of security after its win against YYN last round, and will be taking this week's game against the Panthers very seriously.
He said he is happy with the way his team has been playing and thinks its important to have a "strong spine" which you can build a team around, which he believed Hill End have.
Trafalgar v Thorpdale
Thorpdale will follow up its first win for the season with a battle at Trafalgar this weekend.
Trafalgar worked hard last weekend to beat Yinnar in the last quarter.
Thorpdale also showed a similar never-give-up attitude in its win against Yarragon, and will have to continue to fight hard against the strong and fit Trafalgar side.