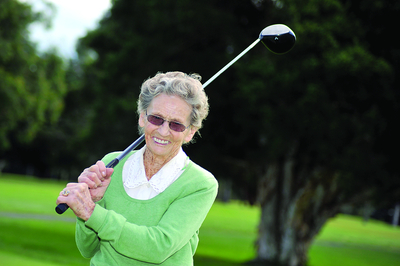 ELIMINATING vices is the key to living a long and healthy life, according to nonagenarian Marion Cheney.
Last week Mrs Cheney celebrated her 90th birthday with a surprise luncheon at her beloved Traralgon Golf Club, where she plays twice per week.
"The trick (to long life) is don't drink and don't smoke," Mrs Cheney said.
"It's all about hard work and exercise."
Mrs Cheney also plays lawn bowls twice per week at the Traralgon Returned and Services League Bowling Club and walks every morning, in between looking after her grandchildren and great-grandchildren.
"The company is just marvelous, that's what I love" she said.
"To get out of the house and meet new people is fantastic."
Mrs Cheney joined the Traralgon Golf Club on 1 January 1970 and enjoyed the sport straight away, along with her husband Bert who no longer plays.
In her prime, she had a handicap of 16 which has now moved out to 38.
"I've lost a bit of distance over the years, but I really enjoy the greens" she said.
Incredibly, Mrs Cheney still walks the course even when she plays 18 holes, but uses an electric buggy for her clubs.
"I can still walk the course quite okay, but when the weather's heavy I struggle a bit," she said.
Outside of golf and bowls, Mrs Cheney enjoys "gardening and cooking", and bakes for her family every Saturday.
Traralgon born and bred, Mrs Cheney has lived all but two years of her life in the area.
"Just after we were married we moved to Melbourne, but I couldn't stand it," she said.
"After growing up in the country, that's all you want to get back to."
Considering her age, Mrs Cheney said she had been "very well" and had no plans to retire from sport anytime soon.
"I really enjoy life," she said.
"Just pottering around and doing my thing; I'm certainly not going to stop now."