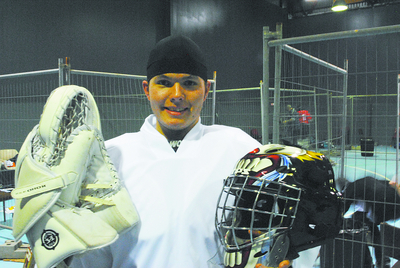 FIVE years after being told by doctors and psychologists he would never play inline hockey again, goalkeeper Nick Kay took to the rink at Stadium 34 last the weekend.
In his return to the sport, Kay played for Lilydale Rats Black, who finished division A runners up in the grand final at the Victorian Junior Inline Hockey Championships.
The 18 year-old from Bayswater, who suffers from global developmental delay, Aspberger's syndrome and absence epilepsy, was determined to play inline hockey, despite what he was told by professionals.
"Psychologists said I would never be able to play hockey," Nick said.
"But I really wanted to do it and three years ago I won a sportsmanship award with the Razorbacks club."
Nick was introduced to the sport by his mother Barbara, who put him on roller-skates when he was nine years old in an attempt to improve his balance.
"I put him on skates because he used to fall over all the time," Barbara said.
"It turned out he was alright at it, so a friend said why don't you put a stick in his hand and teach him how to play hockey."
Since then, Nick had been turned away from a number of clubs because of his disabilities.
Three years ago he found the Eastern Razorbacks club that introduced him to goalkeeping and since then he has not looked back.
"When the Lilydale Rats Black were looking for a goalkeeper for this competition, they asked Nick straight away," Barbara said.
"He's living proof that people with a disability can excel in sports alongside "normal" people."
Nick said inline hockey had taught him "a lot about social skills" and that was what he enjoyed most about the sport.
He currently studies at Swinburne TAFE and he said he hoped to become a carpenter, or work in sports and recreation to help people with disabilities get involved with sport.