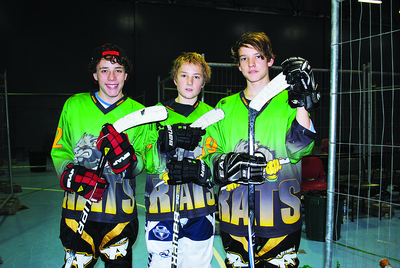 INLINE hockey players from across Victoria descended on Moe's Stadium 34 at the weekend for the Victorian Junior Inline Hockey Championships.
According to organiser and Stadium 34 owner Matt Beatson, the championships went extremely well.
"We've had them here now for about four or so years and each year everyone gets right into it," Beatson said.
Over the two days, 40 matches were played across divisions A (under 17) and B (under 14).
In the division B final, South Australian team the Northern Vikings 2 defeated the Lilydale Rats.
According to Beatson, this is the first year the senior and junior events have not been held on the same weekend.
"The sport is just growing and growing so the association has had to split the tournament into two weekends to accommodate all the matches," he said.
Unfortunately Gippsland was not represented, but the Gippsland Gators will be strong contenders in the senior competition being held over the Queen's Birthday weekend.
"We've had junior teams (from Moe) in the past, but it's such a niche sport and it's really hard to attract and then retain the kids," Beatson said.
"But we'll be well represented in the senior competition."
Fourteen year-old Ben Sultana began playing inline hockey at Moe, but moved to Lilydale at the end of last year with his family.
He pursued the sport in Lilydale, and to his surprise, played in the division A grand final for the Lilydale Rats green team that took out the gold medal.
"I was just excited to be in the final, we don't usually do that well so it's been really good this year," Ben said.
Ben said he had enjoyed the competition, and each time he went to a big tournament his game improved.
"After each of these big events I seem to get better," he said.
"So that's what I'm really looking to do this weekend, is just improve my game."