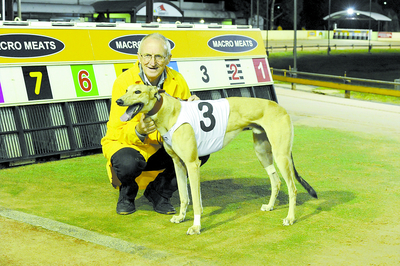 CHURCHILL greyhound trainer Mick Fearnley was "hooked" on the dogs since he bought his first pup with a friend in 1970.
"The first starter I had in a race won, so I was taken from then," Fearnley said.
"After that I had the litter sister to Tem Lee, one of the best greyhounds ever, so it was a good starting point."
Fearnley has been training greyhounds on and off for 30 years, and currently has "quite a few good dogs" in his kennel.
Last week, kennel favourite Wy Yung Tiger made it to the final of the group two Berwick Mazda Harrison-Dawson final at Sandown, although he failed to perform on the night.
"He missed the start and found a bit of trouble; he's good enough to make finals with the really good dogs but he's not quite up to their standard," Fearnley said.
Wy Yung Tiger has had 14 wins from 34 starts and has made the Traralgon and Warnambool Cup finals, but time out with injuries has affected the dog's record, according to Fearnley.
He will turn three in July, and according to Fearnley, greyhounds start to "wind down" around three and a half years of age.
"They usually start at about 18 months old and some go longer (than three and a half), but that's the average," he said.
Other dogs in Fearnley's kennel include young stayer Alpe d'huez who holds the track record at Warragul over 680 metres and By Starlight who came first in the group one race at the Garden Fields in NSW earlier this year. "In total I've got about four racing, and another six pups who are getting ready to race," Fearnley said.
"It's a really nice little group to work with, they're just lovely dogs."
Fearnley said he loved training because of the dogs.
"They're just great animals, and I've always enjoyed the sport of racing," he said.
"Many people don't realise that they're the most placid animals.
"Like any dog, they'll chase a cat or something, but they're really just like big lap dogs when they're not running."
When asked about why greyhounds are often seen wearing muzzles, Fearnley said it was due to local council laws.
"It's probably a bit of an archaic thing," he said.
"They might go and terrorize a little pet dog or something, but they certainly aren't dangerous like other breeds of dogs can be."
Fearnley also spoke highly of greyhound rehoming programs, where he said the dogs were "untrained" to chase and made lovely pets.
"Because of their docile nature, once they've been trained not to chase, they make great pets because they actually require very little exercise," he said.
"They love being inside, lounging around on the couch."
Fearnley also dispelled the myth that once greyhounds have caught a lure, they can no longer race.
"That is a common misconception," he said.
"In fact most of the time we let them catch the lure in training, because it's like a reward.
"If they never catch it, they don't know why they're doing it."
Anyone interested in rehoming a greyhound can visit
greyhoundrescue.com.au