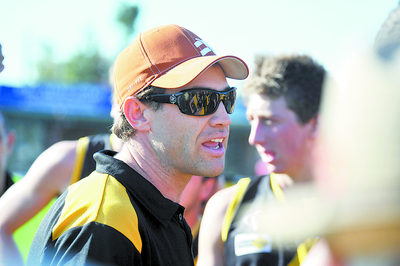 THINGS are looking up at the Morwell Football Club, according to senior coach Damian Kerr.
Despite defeating top Gippsland League side Sale last week, Kerr said the team did not play its best football.
"It was great to get the win because we had been in pretty bad form before that," Kerr said.
"We still did not play the footy I know we can, so hopefully the win will spark a bit of change."
Kerr said his side was motivated following the unexpected loss to Moe the week before.
"It was a pretty tough week leading up to the Sale game because we probably expected to beat Moe and didn't," he said.
"But during the week, the boys were training better, and the return of Jeff Ryan gave them some confidence too.
"The weekend was something of a turning point because I think they'd taken a bit of a look at themselves."
In terms of Kerr's perception of Sale's performance, he said it was hard to judge but he felt Morwell's pressure was what kept Sale down.
"Our pressure was really good; we didn't give them a lot of time and they probably came down thinking we weren't going to be a tough match," Kerr said.
"I spoke to Sale's coach after the game and he said there was no excuse for (Sale's) loss."
Kerr said his side was in a better position than this time last year, primarily because they were suffering less through injury.
"It was pretty bad; we lost nearly half our side so now we're really in a position to build on our form because we're in much better shape," he said.
Kerr said he has complete faith in his side's ability to play finals football.
"Finals are still our aim, and we'd like to win two of our next three to give us that confidence and beat some more sides that are above us on the ladder," he said.
With Morwell's oldest player only 27 years of age, Kerr was positive about the side's future, with many more players around the ages of 16 and 18 years.
"We're really happy with our players; the side's been together for a while now, there aren't too many new players, so I think they're just starting to gel as a group," Kerr said.
It is likely Morwell will have a few players in the interleague team this week, but Kerr said most of the players were looking forward to the week off.
"I think most of the boys will appreciate the break and take the chance to get away," he said.