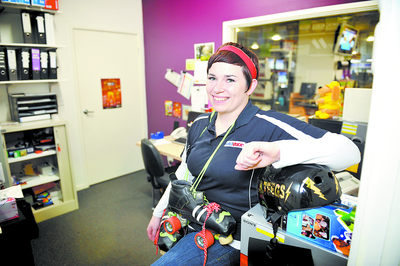 AFTER the "huge success" of the Latrobe City Mega Hertz's first home bout, women from across Gippsland are getting excited about roller derby.
In March, the Mega Hertz hosted their first home bout against the Northside Rollers at Stadium 34, which triggered a record 12 new comers at the "fresh meat" intake in April.
Mega Hertz coach and representative Tegan "TNTeegs" Douglas said the new skaters were "really excited" about embarking upon their derby journey.
"I think the new girls were really excited because they'd been to our bouts and knew what to expect," Douglas said.
"When we started out we didn't know as much about what we were getting into, so having the chance to see us bout and videos of our away matches, they understand it a lot better."
Being a full-contact women only sport, skaters must complete four grading sessions or 'stars' (white, yellow, amber and green) before they can bout, and for most skaters it "takes about one year" to achieve the green star.
This Saturday the newbies will take to the rink at Stadium 34 for their first grading, where bouting members of the Mega Hertz will assess them on basic skating skills such as stopping and falling over.
"Everyone involved is looking forward to it because when we did our first grading, we had to travel to Keysborough and be assessed by a different league on a different surface, so we're really happy our players can now do that at home," Douglas said.
The "amazing spirit" in which derby is played will be displayed on June 16, when the Mega Hertz combine forces with rivals the Northside Rollers to compete against a more experienced league.
"All our green stars will join up with some players from the Northside Rollers to take on the South Seas roller derby in Keysborough," Douglas said.
"We've trained a lot and played against Northside a few times, so it'll be funny to actually be playing with them.
"Keysborough has been around for about three years, so joining up with Northside, who are also pretty new, gives us both the chance to compete against another league."
The Mega Hertz have also managed to secure a major sponsor, which is going a long way to help develop players and referees from Gippsland, according to Douglas.
Douglas said the Mega Hertz aimed to host another bout in August, and ultimately another by the end of the year.