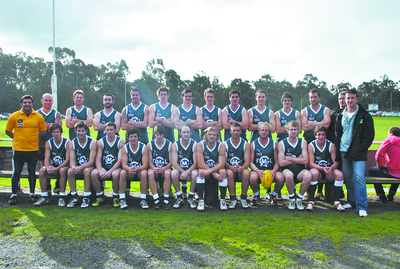 THE Mid Gippsland Football League's senior side was in touch with Alberton for the entire match, but was out-classed at Meeniyan on Saturday 14.12 (96) to 10.12 (72) in interleague football.
For most of the first quarter, Alberton was unable to capitalise on its many inside 50s, kicking five behinds before kicking its only goal for the quarter.
Mid Gippsland was better able to convert goals, and led 3.2 (20) to 1.6 (12) at the first break.
Alberton kicked the first three goals in the second quarter, before Mid Gippsland forward Tim Trail replied with a goal.
Although Mid Gippsland was down by seven points at half time, it seemed to be a better side in the second quarter.
It was almost goal for goal in the third term, but Alberton led by 17 points going into the final quarter.
Mid Gippsland came out firing in the final term, with a goal in the first minute of play.
Although the ball was in Mid Gippsland's forward half a lot and it came within 10 points, the team was unable to close the margin.
Alberton moved the ball well to kick the goals and to win the game.
Boolarra's Matt Dyer was awarded best on ground in a short presentation after the game.
Dyer's work around the stoppages was crucial to Mid Gippsland's solid performance and ability to score.
Coach Dean Caldow thought other noteworthy players included midfielder Chris Weller, defender Sam McCulloch and ruckman Chris Hancock.
Caldow said it was disappointing that his players could not snatch the win, but was pleased with their performance.
"I was rapt with the efforts of all the players," Caldow said.
"They certainly didn't throw the towel in at the end; they fought it right out and at times I thought we were the better team, but when it was in the crucial times of the game they (Alberton) just had that bit of class."
Caldow said he was impressed with his players' knowledge of each others' playing style.
"I think the team really played well together and we utilised their strengths," he said.
Caldow said he hoped Mid Gippsland's participation in interleague matches continued next year, because the players' response was positive.
"At the start guys were a bit hesitant about the concept, but once we drove the message home of what interleague is all about, guys really got on board and got behind it," he said.
Caldow explained to his players that interleague matches allow players to test themselves at a higher level, and even provide the opportunity to perhaps be recruited by a stronger league.
In the under 18s football game, the Alberton juniors also had a win over MGFL 11.19 (85) to 8.8 (56).
Best on ground for Mid Gippsland was Simon Noy, from Hill End.