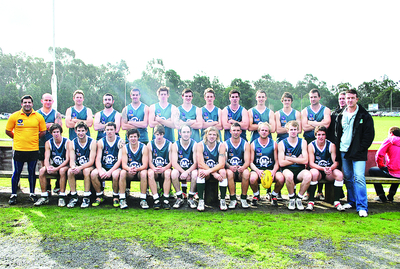 NEWBOROUGH and Trafalgar will play off this Saturday in what should be a clash of the Titans in Mid Gippsland football.
Trafalgar has been the competition's benchmark for the last three years, but Newborough has recently been touted as flag favourites and retain the label despite last round's loss.
The Bloods are currently undefeated and had another great first quarter in their win over Hill End before the break.
Coach Chris Kyriacou said great starts were a focus for the side, because they have "laid the foundations" in the side's many wins this year.
Kyriacou considers Newborough the benchmark, but was happy to have the pressure off "for once".
"They're the team to beat, so I'll be really looking forward to the contest back at Traf," Kyriacou said.
Newborough coach Allan Chandler said he did not believe the pressure was on his side to win, but saw it as a test to find out exactly where the Bulldogs were at.
The Bulldogs have some big ins this week, with Chris Hancock and Daniel Risol back in the side.
Newborough has been making weekly changes to its side, and Chandler said it was hard to identify its strengths and what needed to be worked on at this stage.
"We've already used 30 something players… the team's still learning how to play together," he said.
"It'll be nice to get a settled side and then start evaluating what our strengths and weaknesses are."
After its loss last round, Chandler said the side needed to work its defensive pressure.
Mirboo North v Yallourn Yallourn North
High from its win over Newborough, Mirboo North will travel to Yallourn Yallourn North this weekend.
Mirboo North coach Troy Hamilton said he has yet to see his side play four quarters of great football, regretting its slow start last round.
YYN however, had a great start which it could not back up in the second quarter, losing narrowly to Yinnar.
A solid performance will be needed from both sides to secure a win.
Boolarra v Thorpdale
Boolarra will host Thorpdale this weekend, after scraping through against Yarragon before the break.
With the Blues' basic skills lacking at times, more discipline will be needed if they are to have a chance this weekend.
Boolarra has notched up two wins for the season, and will look to stay on the winners' board as they strive to make the finals this year.
Yinnar v Yarragon
Yarragon come up against Yinnar this weekend.
Yinnar was able to overcome a slow start to beat YYN before the break.
Although Yinnar has been in good form, it has only been able to secure two wins this year and will be hungry for a third to get its season back on track.
Panthers' full forward Paul Harvey and a few other players were back in the side for last round's match against Boolarra, and coach Shaun Kleeven is hoping some other more experienced players such as James Wittmer and Matt Parkinson, will be in the side against Yinnar.
Kleeven said the Panthers had their best game so far this season against Boolarra, playing consistently for four quarters.
"If we play like we did against Boolarra I think we've got a really good chance," he said.
Morwell East v Hill End
Hill End's loss to Trafalgar last round was disappointing, while Morwell East had a comfortable win over Thorpdale.
There is a lot at stake in this game, with both sides eager to secure their positions – Hill End to keep third, and Morwell East looking to push into the top five.
Morwell East is a shorter side and Hill End has many strong bodies, so each side will be fighting to play its own style of football in this game.