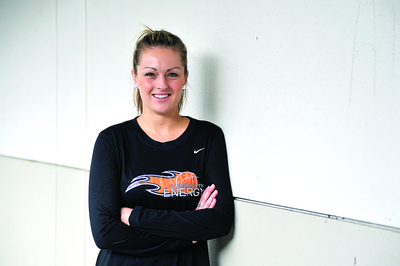 IN just its second season in Big V Division One basketball, the Latrobe City Energy women's team is going from "strength to strength", according to coach Joe Brouns.
"We've started off extremely well, we're seven (wins) and four (losses) at the moment," Brouns said.
"We had a six game winning streak, but we lost quite convincingly last weekend and it was probably our worst game so far."
Currently sitting third on the ladder, Brouns said the side's teamwork was "excellent" and the players knew what they had to work on.
"Our offensive skills are great, we're scoring over 60 points a game, but our defenstive mindset isn't great," he said.
"We're struggling a bit with the physicality of the other teams at the moment and we need to be a bit more pro-active rather than re-active to our players.
"It's the finer things we need to address, which comes down to physicality and pressure."
Brouns made it clear that, as in the mens division, the competition was so even the ladder positions "do not mean much".
"I think it's going to stay like that (close) all season," he said.
"The top four in each of the two sections will play off in the finals, and I think the eighth-ranked team will be able to beat the first team on the right night, so it's not going to be easy."
Again similar to the men's experience, Brouns confirmed the standard of the competition had increased significantly this season.
"It's definitely tougher this year; quite a few ex-Women's National Basketball League players have come in, a girl who was in the 2008 Opals squad is in there too, and a lot more girls are coming back from college in the (United) States," he said.
Brouns emphasised the importance of consistency over the year, and starting pre-season last November the team "peaked a little while ago" but is now looking to recover from that.
"A few weeks ago it showed that we'd been going at it since November, and we had teams trying to knock us off because we were on top which was full-on," he said.
"But because the actual pace and physicality of the game has doubled since last year, we just have to work out our pace a little better."
According to Brouns, the Energy were lucky to have some "competition stand-outs", but said the team still struggled with size.
"We're really lucky to have some really great players like Jamie-Lee Pearce and Danni Pearce, but we need to have some more bigger bodied girls to be a dominant force," he said.
"We've also got some really strong players who put in week in, week out, like Tanarly Hood and Carley Mullen-Bianconi who have represented country Victoria.
"Tayler Brouns and Edan Bourke are also some younger players coming through the system.
"Then we have some more experienced girls like Laura Pickering, Laura Joyce and Liesel Sexton who add experience to the mix, so it's all really positive."
Although confident in his team's potential, Brouns was realistic about its goal for the season.
"Our goal is to make the finals, and then we'll just see what happens from there," he said.
"If we make it, we're in with some chance of going all the way but there's a lot more basketball to play between now and then."