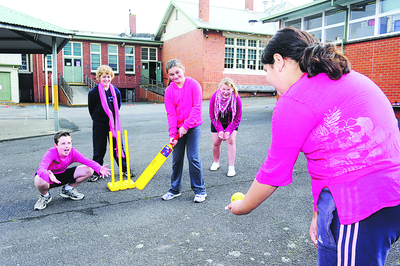 COLD and rainy weather did not dampen the spirits of Commercial Road Primary School's grade five and six students on Monday, as they took to the playground for the McGrath Foundation's Pink Wicket Day.
According to teacher Kim Ryan, the students made a gold coin donation to wear pink, or for those who "weren't brave enough", red was also an option.
"The kids have put a lot into planning these activities over the last four or five weeks," Ryan said.
"They've really gotten into it and have had heaps of fun in the preparation."
Other fundraising initiatives included face painting, hair spraying and 'guess how many lollies in the jar', which Ryan said were all thought up by the students.
"This is the first year we've done something for the McGrath Foundation, and so far it's gone really well," she said.
"Each year we do some kind of fundraising activity, and last year it was Daffodil Day so it was nice to do something different."
Grade six student and school captain, Zac, was brave enough to don a pink t-shirt which he said he "didn't normally do".
"I don't usually wear pink," he said.
"I just thought I'd do it because it was Pink Wicket Day and I think it's pretty brave."
Over the course of the day, students from all grades participated in cricket and other activities.