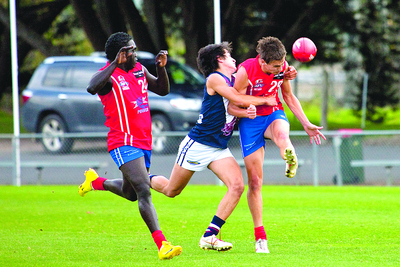 REFLECTIVE of the Loy Yang B Gippsland Power's start to the season, six players from the dominant side have been named in the Victorian Country team for the NAB Australian Football League under 18 Championships.
Nick Graham, Ben Kearns, Tim Membrey, Jack Leslie, Josh Scott and Ryley Hall have been selected in the team that will travel to Sydney this weekend for its round one match against New South Wales.
Selection came as a "massive surprise" for Churchill's Ben Kearns, who is in his first season with the Power.
"As a 17 year-old, I'm a top age and since it was my first year in the competition, I couldn't believe it," he said.
The midfielder has had an excellent season, racking up not only valuable possessions but working hard off the ball with tackling and consistent application of pressure.
"I feel like my start hasn't been too bad," he said.
"I'm starting to get used to the different level; the games (in the TAC Cup) are a lot faster, but I'm getting there."
Kearns noted the key difference between the TAC Cup and local football was the "speed" and "skill level" of all the players.
"In the TAC Cup everyone is at that next level, not just a few (players)," he said.
Because of the increased speed, another crucial change for Kearns has been the focus on recovery.
"At this level the recovery is really important, so you have to make sure you're doing all the right things after games," he said.
"Part of that is not going out too much on the weekends."
Kearns said he has benefited from coach Nick Stevens' emphasis on applying defensive pressure and lessons on "what we're doing when we don't have the ball".
"I think those areas are where my game has improved the most," he said.
So far the Victorian Country squad has had "a few meetings and light runs" together, but is yet to have a serious training session as a team.
According to Kearns, taking to the field alongside players who are usually opponents will be "a bit strange".
"It'll certainly be different, because we play against them on the field and we have that rivalry and get fired up against each other," he said.
"But coming together in this team, we get the chance to know them off the field and make new friends, so it'll be great."
Kearns is pleased some of his regular teammates are in the side, who he "really got to know" on the Power's training camp at Mount Hotham during the pre-season.
"We all put in a massive pre-season, and the trip to Hotham was great for not only fitness but getting to know everyone," he said.
"I think most of us are feeling the benefits of those tough days on the mountain.
"At training, we really put in and make sure we're not just going through the motions."
Not looking too far ahead, Kearns said he is focusing on "going out and having fun" but would "love to be drafted" next year.
"Wherever it gets me, I just want to go out and have fun," he said.
"You just never know where you'll end up unless you have a crack."