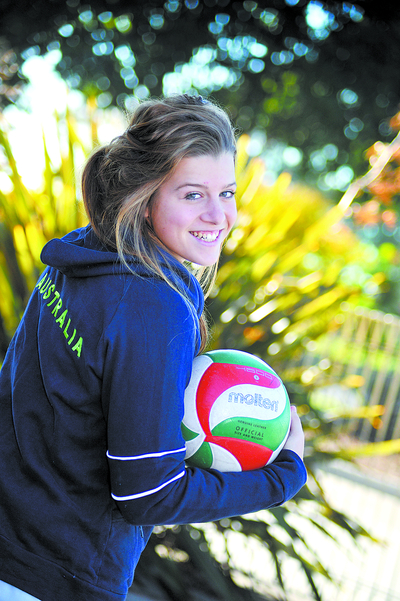 MORWELL'S Phoebe Trembath is no stranger to national volleyball teams.
Recently, the 15 year-old Lavalla College student was named in the under 16 Australian Youth Girls Trans-Tasman team for the second year in a row.
"Throughout the year the selectors keep narrowing the team down, so it's definitely the aim to get invited on one of these tours," Phoebe said.
The team will play New Zealand in a tri-series event at Horsham in July, where Phoebe will take to the court as the team's number one defensive player.
To make sure all athletes are given the opportunity to perform at their peak, the national team will take part in beach volleyball training as well as indoor sessions.
According to Phoebe, there are a few reasons why beach volleyball is "a lot harder" than indoor.
"Beach is so much harder because there's just two of you and you have to run so much faster, but you're so delayed by the sand," she said.
"Over the four days of the competition, I'll probably do four indoor and about two beach sessions.
"I enjoy it (beach volleyball), but as more of a social thing."
News of her selection came on the evening of the 2011 Gippsland Sports Academy Awards, where she took home the academy's highest honour, the Tim Forsyth Award for Sporting Excellence.
Phoebe was "pretty rapt" to receive the award, and said the academy had played a big part in her success so far.
"I'd been playing for about two months when I got into the volleyball squad and it helped me develop a lot faster," she said.
"It was a really good pathway to a state team."
In between training for the Victorian under 16 squad and school, Phoebe plays in a weekly competition with the Phoenix Volleyball Club in Newborough.
"Over the last two years, the number of teams has gone from two to 11," she said.
"I love the social side of it; it's always such a great environment and the people are all really friendly."
Phoebe said the key to success in volleyball was "wanting it".
"You have to be committed to it on and off the court," she said.
"It's a big time commitment and on the court, if you don't want the ball, the game won't really work."