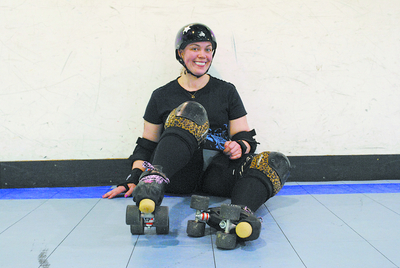 TWO months ago Donna Bushby's goal was to skate around a rink without holding onto the edge.
Two weeks ago, the Tyers nurse passed her first roller derby grading, or white star, with the Latrobe City Mega Hertz roller derby league along with 11 other new skaters.
Before skaters can compete in derby they are required to pass four grading exams, or coloured stars: white, yellow, amber and green.
"When I started, I'd never skated before," Bushby said.
"I was literally going around holding the wall but everyone was so supportive and encouraging I stuck it out and now I'm hooked."
As part of the grading, Bushby had to skate at pace around the rink, skate backwards and stop on the tips of her skates, all things she "couldn't have imagined doing" in April.
Bushby was introduced to derby by a colleague, and when she attended the Mega Hertz's first home bout in March she thought it might be something she would enjoy.
"It was so exciting; the girls looked so fit and like they were having so much fun; I thought 'why not?'," she said.
Bushby admitted there were times in the first few sessions when her motivation was low, being the only new recruit who had never skated before.
"My colleague told me to give it four to five sessions which I did and that's when I got stuck on it," she said.
"You get so into it that now when I see a bruise or something, I smile and think 'yep, that's derby'."
Aside from keeping up basic fitness through walking and light jogging, Bushby said she was "not a sporty person" but can feel her fitness improving with "every derby session".
For Bushby the enjoyment of derby was mutli-faceted.
Firstly, as a self-confessed perfectionist, Bushby said she "loved setting goals for herself" because it was like "having a little party" every time she achieved it.
Then Bushby said she found the sport "empowering" because of the goal setting element and the attitudes of the people she had met.
"It encourages women of all shapes, ages and sizes to do it," she said.
"Even getting into the tight clothes, all the people just give you so much confidence it's incredible."
But perhaps the most unique part of derby is what Bushby describes as the "alter ego" that comes out in everyone.
"I'm a nurse, so I have to have my compassionate face on all the time, which is fine, but sometimes you just want to vent and take your frustrations out at something," she said.
"I love pink, so I have little bits of pink everywhere and there's another girl who loves the 1950s housewife image, so she puts little bows on her skates and things like that.
"You just forget about the world for a while; it brings out a different side of you."
Bushby and her fellow white stars will take their yellow star examination in late July.
Until then, Bushby plans to keep practicing and help the team with its upcoming bout in Keysborough.