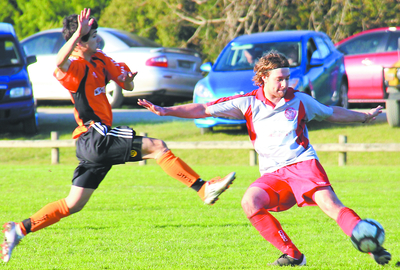 The fiercest modern day rivalry in the Gippsland Soccer League takes centre stage this Saturday night, when Churchill United hosts Fortuna at Hazelwood South Reserve.
After losing last year's GSL championship to Fortuna in the closest finish in league history, Churchill will be desperate for some redemption.
The GSL is played as a true home and away competition, with the "champion" team being the team that finishes on top of the ladder.
In 2011, Churchill and Fortuna finished equal on points with just four goals deciding the title in Fortuna's favour.
When the two sides met in 2011, both matches ended in entertaining draws, 3-3 and 2-2, respectively.
The Rams gained some comfort by winning the finals series premiership with an emphatic 4-1 victory in the grand final over Fortuna, but was still reeling from the loss of the Championship by such a slender margin.
This season, Churchill has skipped five points clear of the Orangemen and amassed a substantial goal advantage, so a win in this fixture would put them firmly in the drivers' seat to claim its fourth GSL Championship in six years.
Churchill president Stephen Breheny said he was excited about the upcoming match and the rivalry in general.
"Since 2005, Churchill and Fortuna have battled for supremacy of the GSL and played some enthralling matches that have drawn spectator neutrals and the soccer uninitiated alike along to watch," Breheny said.
"We're expecting another big crowd on Saturday night."
Fortuna will be placing its faith in some new faces with Rayvel Whiting, Joel Baldwin, George Fkaris and Dean Hamilton all joining in the off season.
Churchill's team has remained relatively unchanged, with Tim Dawson the notable inclusion along with Mitch Jackson who has stepped up after a stellar pre-season from last year's reserves.
The match will be won in the midfield with Churchill's combination of Nathan Osborne, Jackson, Nathan Lugton and Dawson in red hot form.
The Rams also have attacking options the envy of the league, with Luke Cheney Jesse Kennedy, Kwaku Dade, Taylor Jackson and Stephen Riess to choose from.
The Orangemen will be without top scorer and captain Josh Tanti through suspension, but despite his absence expect Fortuna to show its trademark determination.
The senior match kicks off at 7pm with youth at 5pm and reserves 3pm.
Falcons v Sale
Also on Saturday night, the Falcons take on the surprise packet of the season Sale United at Latrobe City Sports Stadium.
The Swans sit in third place and a top two finish looks like a distinct possibility.
Sale target man Jon Piefke is now back to full fitness and ready to team up with young utility Tommy Nguyen up front.
The Falcons have had a mixed start to the season, their seventh position on the ladder being attributed to a string of draws which were all winnable.
The Falcons' leaky defence is its Achilles heel, and coach Mauro de Luca will be eager to stop it; however, Sale appears to hold the advantage offensively.
Olympians v Moe
After finally breaking through for a win against neighbours Traralgon City, the Traralgon Olympians will be hoping to replicate that performance with a win against Moe on Saturday night.
The Olympians have their work cut out for them, as the Red Devils enter the match with a strong form line having drawn with Fortuna and having pushed Churchill to the brink in its last two outings.
Adrian Savage and Jason Koppen were out injured against the Rams, and if they come back into the side to complement Marc McHallam and Lee Dastey then Moe will be favored.
The Olympians will look to its young trio of Michael Fava, Aaron Daniels and Kenny Higgins to deliver, and will need experienced campaigners Tony Pardo and Clayton Bell to step up in what will be a very interesting tussle.
Newborough-Yallourn United v Traralgon City
Sunday's match between Newborough-Yallourn and Traralgon City at Burrage Reserve is a line in the sand encounter for the Roosters, that must arrest a three-match losing streak.
NYU cannot be taken for granted despite its bottom placing and with former players Adam and Andrew Batt now lining up for the Roosters, the Combine will be extra keen to cause an upset.
City needs the experienced Batt brothers to reignite its season by leading talented youngsters Mark Fairbrother, John Kuol and Dustin Moos back to their early season form.
Tyers v Monash
Monash is equal on points with Traralgon City, outside the top four by just three goals so they will be keen to win at Tyers on Sunday.
Tyers Recreation Reserve is a clag pot at this time of the year and the Generals will find the going tough against the Lightning, with both sides playing a similar style of counter-attacking soccer.
At one end Monash boasts Eric Sostak who has kicked seven goals this year, while Tyers have proven goal kicker Jake Budija on six.
Monash however hold the edge defensively headed up by Trent Felici and goalkeeper Russell Musgrove and should be too good.