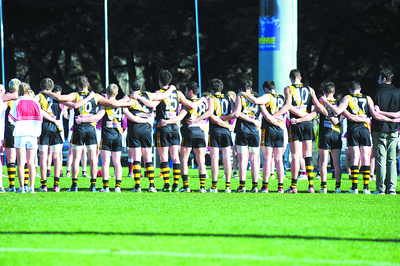 The match all Gippsland League followers have been waiting for this season is the night clash between top-two sides Sale and Leongatha.
Both sides are stacked with talent and in 100 games played between the pair Leongatha as a slight advantage winning 50 to 48 with three drawn matches.
At Sale the Parrots hold a one game advantage, showing the home ground advantage means nothing to these two sides.
One of the highlights in this match will be the battle of the forwards, Sale's Matt Ferguson leads the goalkicking with 45 goals, two ahead of Leongatha's Jake Best with Dwayne Holt on 35.
Sale's defence is the best in the competition, with Shane Fyfe, Jason Dessent, Ryan Pendlebury and Adrian Quirk leading the way while Will Thursfield, Tas Clingan,
David Gourdis and the veteran Paul Le Page holds the Parrots opponents to losing scores.
A win to Sale will give them top spot, while a win to Leongatha will give it a two-game break at the half way mark.
Drouin v Morwell
Morwell, after two impressive wins against Sale and Traralgon, has a danger game against the under performing Drouin.
Last year's grand finalists have won only one out of four home games on a ground that has been the downfall of many good sides.
The Tigers, after an unimpressive start to the season, are firing on all cylinders at the moment and were too strong for Traralgon in a top class match on Monday.
Jason Akermanis did have a hand in the Tigers win, with eight kicks, 10 handballs one mark and kicked 2.1, not to mention the motivating influence he had on the Morwell side.
Towards the end of the third quarter Akermanis took a spectacular mark, bringing the 2,450 strong crowd to its feet when he went half a shin high above Nathan Frietag, and capped it off with a 45-metre goal.
Unfortunately he will not be playing again this season with the Tigers.
Jack Brown did a great job in defence with Michael "Chunky" Duncan, and Michael "Funky" Duncan did his bit up forward with three goals.
One of Morwell's failings this year has been its poor starting, but in the past couple of matches they have sprinted from the blocks and it has paid off.
Drouin relies heavily on gun midfielder Pat McGrath and Dean Woodhead and David Olsen are consistent.
The Hawks' last quarter against Bairnsdale was not typical for Drouin, kicking only two points, but that has happened more than once this season.
While form points to a Morwell win, statistics show Drouin has won five of their past six meetings.
Maffra v Traralgon
Traralgon travels to Maffra in a game important to both sides.
A win will see one of them still in the race for a double chance while a loss could make it more difficult for a final five spot.
Maffra is sitting third on the ladder, two games adrift of Sale, while Traralgon is one game behind the Eagles.
This will be an entertaining match played with great intensity and key forwards Dan McKenna (Traralgon) and Adrian Burgiel (Maffra) could have a big influence on the final result.
Both sides have a strong midfields and will have to fight hard to get clearances around the stoppages.
Moe v Bairnsdale
Moe is home to Bairnsdale and must be a chance against a side that does not travel well.
Gary Blandford should be back and Rhys Pywell may have recovered from a hamstring, but there is still some doubt about ruckman Ben Morrow.
Jason Macfarlane has the Lions playing the way he wants them to, but a lack of effective forwards has been their downfall in several games.
Stuart Robertson is a dangerous forward and is capable of kicking a bag while the Redlegs will rely a lot on James Gibbs.
Wonthaggi v Warragul
Wonthaggi Power and Warragul both need a win to stay in touch with the leaders, and the home ground advantage favours a Power victory.
The Gulls scored two wins in the first six rounds and they continue to play with enthusiasm under George Morgan, but have not performed at their best since the interleague break.
Leigh McDonald may be available this week and he could be playing in a helmet after a couple of heavy knocks this season.
Ben Hughes was goalless last week but Mark Bradley is still continuing to shine in the ruck for the Gulls.
The Power has been unsettled recently but at home are a different proposition.
A couple of recent signings will strengthen the side but if they let the Gulls have their own way there could be an upset.