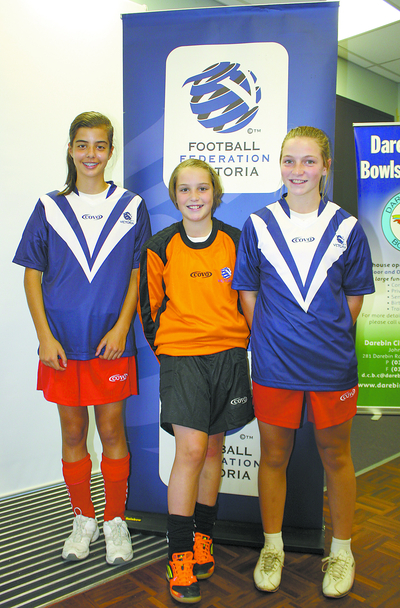 If dedication is anything to go by, then Traralgon's Meg Ruyters will go a long way.
The 13 year-old currently "plays some soccer" every day of the week.
"With training and competitions, I probably do those four to five times a week and on the other days I practice," Meg said.
"When I'm practicing by myself, I work on things like my ball control because balance is my weakness, so I practice those things as well as my strengths."
In April, Meg was joined by Gippsland teammates Nicole Faltum and Emily Lugton, in the Victorian Country under 13 girl's soccer team that competed at the national championships in Canberra.
According to Meg, there was an extended try-out period that included a training program.
"After we were selected, we trained for about seven weeks, every Saturday at Darebin," Meg said.
"It was quite a bit of travel, but it was definitely worth it because we had to get to know each other's games."
Meg said the girls were happy with the team's performance, winning two, losing two and drawing one.
"I was really happy with how I played too," Meg said.
"In the first game against Tasmania, the scores were nil all and in the last 15 seconds, I scored the winning goal."
Meg is also part of the Gippsland Sports Academy's soccer program, which gives her the opportunity to play against boys.
"I like the academy's program because we get to train with the boys who play quicker and cleaner," she said.
"It's also more physical, so I find it really helps me develop my game."
Despite her young age, Meg is wise to the challenges that lie ahead if she is to achieve her dream of playing soccer professionally.
"You just have to have a really hard work ethic and the skill to control the ball," she said.
"You also have to be mentally tough, which is something you have to work on as well."
Meg is now pushing for selection in the general Victorian girls' team, and will compete in the Victorian Champions League later in the year with the Gippsland Knights.
"Hopefully I'll do well there and that's the pathway to selection in the (general) team," Meg said.