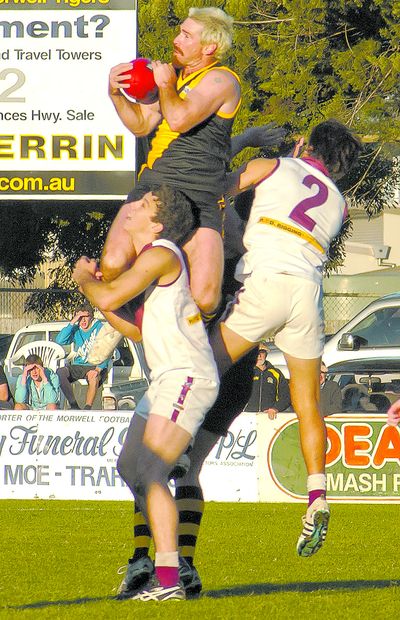 ABOUT 2500 people made their way to the Morwell Recreation Reserve on Monday, to see Australian Football League legend Jason Akermanis don the Tigers jumper and beat arch rivals Traralgon by 17 points.
On a surprisingly firm surface the game was close all day, with some sections of scrappy play the result of intense Gippsland League football.
There was little doubt members of the football community were wondering how Traralgon would deal with Akermanis, but on the day he was treated as a regular player.
Spectators got their gate fee back in entertainment late in the third quarter, when Akermanis flew over Traralgon's Nathan Freitag to take a spectacular grab that even surprised the former Brownlow medallist.
"I don't normally take speccies, so that one will certainly stay with me for a while, especially at 35 years of age," Akermanis told the media.
Following the mark Akermanis converted the goal from 45 metres out, much to the delight of the roaring crowd.
Morwell's work rate was first class all day, perhaps inspired by its temporary teammate.
Traralgon made a gallant comeback in the final quarter, but towards the end Morwell kicked two unanswered goals to grab a 17-point victory and jump to fourth place on the ladder.
Jack Brown was Morwell's best, along with Michael 'Chunky' Duncan and Tom Crosby.
Michael 'Funky' Duncan provided an excellent target up forward, ending the day with three goals.
Traralgon's best were Frietag, Jesse Bird and Kim Harrold, with Dan McKenna and Josh Jennings kicking three goals each.
Tom McQualter returned to senior football and was among Traralgon's better players in what was a great contest.